This poem about the christening of the baby Princess Elizabeth, is actually part of a series of poems about the life of Elizabeth's mother, Anne Boleyn. If you are interested in reading the series, you can find the poems on our sister site – www.theanneboleynfiles.com.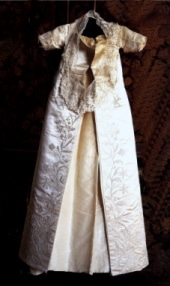 A Princess' Christening
For the Princess' christening, Anne wanted the special cloth so grand
That Katherine of Aragon had brought from Spain with her own hands.
Predictably Katherine refused, no matter what would be the reprimand
But for this christening cloth, King Henry of England did not demand.
For the christening of this Princess was to be extremely low key
Only the very few nobles and peers of England would see;
The unexpected Princess, instead of a long awaited male heir
The son that would have created a stable kingdom, without a care.
The splendid joust was cancelled to the country's dismay
The grandness and royal splendour would be kept at bay.
At the christening, Archbishop Cranmer acted as Godfather
The Dowager Duchess of Norfolk, Agnes, was Godmother.
At the Baptism was this step-grandmother of Queen Anne
The matriarch of the Howard family since the Queen was 'Nan'.
Then there would be the 'confirmation' with another godmother
Gertrude, Queen Catherine's friend who because of extra bother
This Marchioness of Exeter, unfortunately could not refuse
She could not treat this royal invitation with abuse.
There was a point to this moment, creating a border
Although this was low key, it was the end of the old order.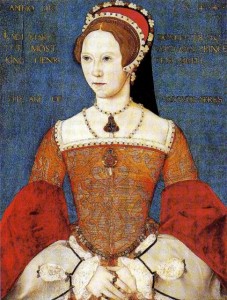 The old queen – Katherine – was set aside and officially forgotten
The Old ways of Catholicism would soon be gone and rotten.
The elder Princess, Lady Mary, was no longer the King's heir
She had been since her birth, in 1516, a year that then was fair.
The herald proclaimed Elizabeth the King's first legitimate child
With Mary's presence, Anne's temper became very volatile.
In November, 1533, Mary's Princess household was dissolved
And Mary was placed with the infant Princess Elizabeth's household.
Although the Lady Mary was inferior, she was still a tether
And the need for a son and male heir was as urgent as ever.
The threatening presence of Mary meant the battle was not won
Making it even more vital for Queen Anne Boleyn to have a son.
By Esther Hyams