There are all kinds of resources available to help you learn more about British History. Here are some to start you off:
The Tudor Society
The Tudor Society is a membership society for Tudor history lovers wherever they are in the world. It offers a Tudor history-focused magazine (digital and paper), monthly talks from historians and authors, live chats in the chatroom, weekly video talks, weekly quizzes, resources, Tudor history e-books, and much more. Find out more at www.tudorsociety.com/
Tudor history videos
The Anne Boleyn Files YouTube channel has lots of informative Tudor history videos on Tudor people, kings and queens, Tudor cooking, all sorts. Find out more at https://www.youtube.com/user/AnneBoleynFiles
BBC History Magazine
The BBC History magazine is a top quality publication from the renowned British Broadcasting Corporation. It is published once a month and is available to subscribers worldwide. On their website, the magazine is described as: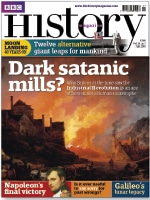 "Covering all periods from prehistory to the 20th century, each issue is packed with the latest news, in-depth features and much more. BBC History Magazine is Britain's best-selling history magazine, helping you bring Britain's and the world's rich past to life. Each issue provides you with accessible and informative features from leading academic historians. Covering an extensive range of periods, we uncover history, British and worldwide, from Prehistory to the 20th century. With a a 25-strong advisory board of leading historians including Professor Simon Schama, Laurence Rees and Professor Ian Kershaw."
Find out more at www.bbchistorymagazine.com
HerStoria Magazine
I've just subscribed to this new history magazine which its editor describes as "a new magazine of women's history designed to turn a kaleidoscope on the past to uncover a different history — women's history — and celebrate the women who made it.
HerStoria was born out of frustration with the male bias of top-selling popular history magazines and their emphasis on 'great men' and war. We aim to explore history from a female perspective, to surprise, entertain, inform and create a community. Each issue will include articles, features, news, interviews, reviews, listings and much more. HerStoria is not a woman's magazine — it's for anyone who knows that history isn't only a one-sided story …."
HerStoria is edited by Claire Jones who holds a doctorate in women's history. She has published widely on women's history and is also an associate lecturer at the University of Liverpool. The magazine is published 4 times a year and you can find out more at www.herstoria.com
Historic Royal Palaces Videos
Historic Royal Palaces, the charity which owns Hampton Court Palace, the Tower of London and other historic buildings, has got its own YouTube channel with lots of educational videos on available. They are mainly on Henry VIII, and his wives, but there are also some on general Tudor life. Here is just one of the videos on their channel:-
See more videos at http://www.youtube.com/user/HistoricRoyalPalaces
Books
We have some great Elizabeth I books listed on our Books page.