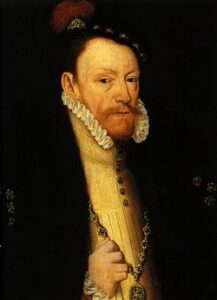 On this day in history, 6th January 1562, Shane O'Neill (Irish name Seán Ó Néill), King of the Ulster O'Neill clan in Ireland, was received in the English court by Queen Elizabeth I:-
"John Onell the Frenshman who had don much myschief the sommer past in Ireland cometh by save condytt into England and was receved gentelly in the courte in his saffron shorte the twelveth day at night. He accuseth the erle of Sussex of great crymes, crueltie, breache of promyse, putting to death of divers contrary to promyse and saue conduytt, pilling and polling etc."1
Shane O'Neill, who had become chieftain of the Ulster O'Neill clan after the death of his father Conn O'Neill, 1st Earl of Tyrone, in 1559, had refused to help the English led by Thomas Radcliffe, 3rd Earl of Sussex and Lord Deputy of Ireland, against Scottish immigrants in Ireland, even allying the O'Neills with the Macdonnells who had settled in Antrim. Elizabeth I had agreed to recognise his claims to be head of the O'Neill clan, over his half-brother Brian O'Neill, in return for his submission to her and her Lord Deputy, O'Neill was not willing to submit to Sussex and Sussex was able to persuade the Queen into permitting him to bring O'Neill to obedience by force if necessary. Sussex's operations against O'Neill were a failure and so Elizabeth sent the Earl of Kildare to deal with O'Neill. Kildare invited the Irish chieftain to court to negotiate and O'Neill agreed to go if he was promised safe conduct, He travelled to Dublin, escorted by Kildare and the Earl of Ormonde who were to act as guarantors of his safety, to Dublin to meet with Sussex before taking a ship to England accompanied by Kildare and Ormonde, and followed by Sussex.
In a meeting with the Queen, O'Neill signed a submission but, as Cyril Falls points out, "Elizabeth kept him hanging about, undecided what to do or how to reconcile his claims with the rights of Dungannon's elder son, Brian O'Neill"2. In March 1562, she ordered that Brian O'Neill should be sent to her but on the 12th April Brian was killed by Tirlagh Luineach O'Neill. The Queen and O'Neill were able to come to an agreement after articles were drawn up on the 30th April 1562 and O'Neill took the oath of a subject and "offered to reduce Ulster outside Tyrone to peace – a delicate way of saying that Elizabeth hoped to use him to tame the Antrim Scots"3. In return, he was to be lord of Tyrone and rule "O'Cahan's country, east of Lough Foyle, and the greater part of Antrim"4, but to submit to Elizabeth's minister and council if there were any disagreements between his clan and others. However, it was not long before Sussex was reporting to Elizabeth that O'Neill was not sticking to the agreement!
You can read more about O'Neill, Elizabeth and Ireland in "Elizabeth's Irish Wars" by Cyril Falls and Wikipedia also has an excellent page on Shane O'Neill.
Notes and Sources
Quoted in "Religion, politics, and society in sixteenth-century England", Ian W. Archer, p90
Elizabeth's Irish Wars, Cyril Falls, p89
Ibid.
Ibid., p90