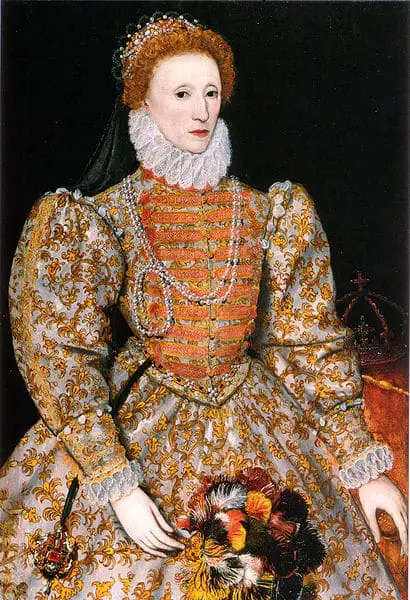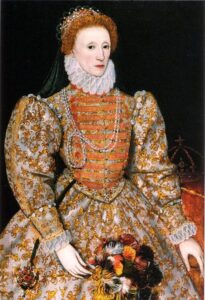 The first poem I want to share with you was inscribed by Elizabeth I on the last leaf of her French psalter, which is in the Royal Library at Windsor Castle. Leah S Marcus, Janel Mueller and Mary Beth Rose, editors of "Elizabeth I: Collected Works", date this poem to 1565 because:-
"The lightly embellished, readily legible italic script suggests a date in the 1560s or 1570s."
In August 1565, William Cecil referred to an "obscure sentence" which Elizabeth wrote in "a book at Windsor" when Elizabeth "was much offended with the Earl of Leicester".
Stephen W May, editor of "Queen Elizabeth I: Selected Works", however, dates it to before the 17th November 1558 and suggests that she inscribed the poem when she presented the psalter to a servant or friend.
Here is the poem:-
No Crooked Leg

No crooked leg, no blearèd eye,
No part deformèd out of kind,
Nor yet so ugly half can be
As is the inward, suspicious mind.

Your loving mistress, Elizabeth R
The next poem or sonnet is dated by Marcus et al as circa 1571 and they believe that Elizabeth I wrote it in response to the threat posed by Mary Queen of Scots as she fled to England in 1568. Marcus et al write of how the poem was given pride of place in George Puttenham's 1589 "Art of English Poesie" and Sir John Harington, in his "Nugae Antiquae" (1769 edition), introduced the poem with part of a letter which explained how the poem may have become public. The letter said "My Lady Willoughby did covertly get it on her majesty's tablet and had much hazard in so doing, for the queen did find out the thief and chid for spreading evil bruit of her writing such toys when other matters did so occupy her employment at this time, and was fearful of being thought too lightly of for so doing."
I for one am glad that it was made public, and not lost or destroyed. I love this poem, it shows just how talented and eloquent Elizabeth was. I like her name for Mary, "the daughter of debate" – how true! – and the last verse is prophetic as Mary did go on to lose her head in 1587. It's a truly wonderful poem, enjoy!
The Doubt of Future Foes

The doubt of future foes
Exiles my present joy
And wit me warns to shun such snares,
As threatens mine annoy.

For falsehood now doth flow,
And subjects' faith doth ebb,
Which should not be if reason ruled
Or wisdom weaved the web.

But clouds of joys untried
Do cloak aspiring minds
Which turns to rage of late repent
By changèd course of winds.

The top of hope supposed
The root of rue shall be;
And fruitless all their grafted guile,
As shortly you shall see.

Their dazzled eyes with pride,
Which great ambition blinds,
Shall be unsealed by worthy wights
Whose foresight falsehood finds.

The daughter of debate,
That discord aye doth sow,
Shall reap no gain where former rule
Still peace hath taught to know.

No foreign banished wight
Shall anchor in this port:
Our realm it brooks no seditious sects-
Let them elsewhere resort.

My rusty sword through rest
Shall first his edge employ
To pull their tops who seek such change
Or gape for future joy.

Vivat Regina
Source