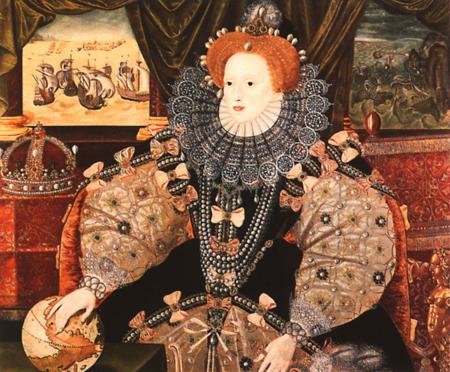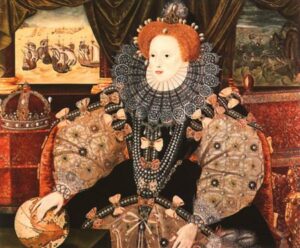 There's an interesting article on the BBC website entitled A Point of View: Dazzling in an age of austerity in which historian Lisa Jardine talks about how "Elizabeth used ostentation and opulence in her dress as a political tool to increase national confidence in the solvency of her regime".
It is an excellent article and well worth a read. Jardine writes of how the daily inventory of outfits worns by Elizabeth I, which "details meticulously the pearls and gems individually stitched on to the queen's articles of clothing for state occasions, then painstakingly removed and checked back in to her jewellery collection afterwards", shows us that Elizabeth's amazing attire in the 1588 Armada Portrait "is no artistic exaggeration". Jardine says of Elizabeth's outfit:-
"At each intersection of patterning in her silk sleeves and kirtle a pearl or a flower-shaped jewel with diamond petals has been lovingly attached, while shoulders and gown-edge are decorated with pink silk bows, each with a jewelled flower at its centre. The effect is dazzling – a clever way of making a female monarch appear as powerful in victory as her male counterpart would have been, dressed in full armour and ready for battle."
As I have said before, in my articles "Elizabeth I – Queen of PR" and "Elizabeth I's Image", Elizabeth was a very image conscious woman. She used her portraits and her outfits as propaganda and recognised them as powerful ways to send messages to her people and to other monarchs.
The BBC article also has an interesting bit on New Year's gifts so do read it.