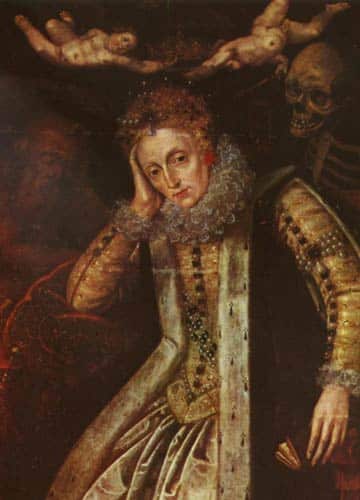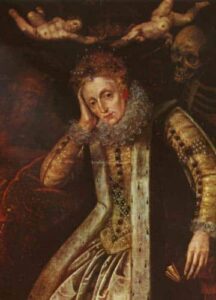 I've just been listening to a BBC History Magazine interview with Tracy Borman, writer of "Elizabeth's Women: The Hidden Story of the Virgin Queen", which takes as its theme Elizabeth I's jealous streak. It really is an interesting interview and well worth a listen – you can either download it from iTunes (BBC History Magazine Podcasts) or you can listen to it on the BBC History Magazine's website – click here to go to the right page. The first half of the BBC History Magazine is an interview with Dan Snow about the Battle of Quebec and the Tracy Borman interview is in the second half.
In this interview, Borman considers Elizabeth I's looks, her vanity, how she controlled her court and how she became embittered and jealous in her later years. As we know, Elizabeth was not a classic beauty, but she was certainly not ugly. She had her mother's undefinable attraction and sex appeal, as well as her flirtatious nature, which kept her the centre of attention. She knew that she was the most desirable woman in the whole of Europe and it was this knowledge, combined with her sex appeal, intelligence and wit, that helped her control her court and have everyone trying desperately to win her favour. I can just picture her surrounded with men hanging on her every word!
Borman points out that Elizabeth had seen her half-sister Mary fail to control her court and always defer to men, and Elizabeth knew that she herself had to have ultimate control. Even though she was famous for her procrastination and indecision, she was always the boss and all of her advisors and council knew that she was in charge. Elizabeth was ready to listen to advice from trusted men like Lord Burghley, but she made the decisions and deferred to no man.
In her early years, it was easy for Elizabeth to control the men around her with her charms and to stand out from her ladies by outshining them with her extravagant costumes and her wit, but this obviously became harder as she aged and lost her looks. Borman points out that in Elizabeth's later years it was natural for those at court to think about her successor, James VI of Scotland, and to try and win favour with him instead. How frustrating it must have been for Elizabeth to see her men change their allegiance and for her no longer to be the centre of attention.
Elizabeth tried desperately to hang on to her youth and it is said that she even experimented with alchemy in her early 30s to try and capture the secret of everlasting youth. It is a sad fact that she became "mutton dressed as lamb" as she still dressed like a young woman, plastered her face in thick makeup, wore low necklines and bright red wigs, and really became a laughing stock to visiting foreign ambassadors. As she aged and felt herself losing her grip on her male courtiers, she became bitter and jealous. There are stories of her lashing out at the women around her, throwing things at them, screaming and even breaking a lady's finger. Her ladies were the ones who saw her as she really was and the ones who surrounded her, no wonder they bore the brunt of her fears and frustration.
At the end of the interview, Dave Musgrove, Editor of BBC History Magazine, asks Tracy Borman whether male monarchs also lost control of their court as they aged and lost their looks – an interesting question! Borman points out the example of Henry VIII who became so obese and ill that he had to be carried around everywhere, yet he was still in complete control and never lost that sense of majesty. How unfair!
So, perhaps Elizabeth did become a jealous old hag, but she was one of the finest monarchs that England has ever had and was truly loved and admired by those around her. Whatever she became, she is a role model for us today and managed to control her court in an era where women were just not meant to be Queens – bravo Elizabeth!
Tracy Borman's book, "Elizabeth's Women", is available now from Amazon UK – click here for details. The book is also BBC Radio 4's Book of the Week next week and you can hear extracts of it being read out on Radio 4 – click here for details.