Elizabeth I had a very special piece of jewellery commissioned in around 1575, a piece that would mean so much to her that she would wear it on her finger until it was taken off her body after her death. What am I talking about? I am talking about Elizabeth I's famous locket ring.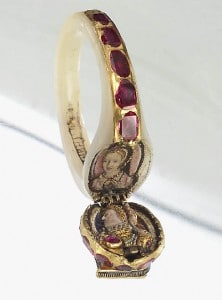 Why is this ring so important?
Quite simply because it is the only real evidence of how important Elizabeth's mother Anne Boleyn was to the Queen. It is said that Elizabeth I hardly mentioned Anne Boleyn, the mother who had been executed for adultery and treason when Elizabeth was just 2 years old, although she may have reminisced with her good friend Blanche Parry or the Boleyn relatives she surrounded herself with. But, it was too risky for Elizabeth to mention Anne in public, to draw attention to the fact that she was the illegitimate daughter of a woman known as a whore or witch, a woman who was said to have betrayed the King of England. Elizabeth could only grieve for Anne in private and this ring showed how important Anne's memory was to her daughter.
The Locket Ring
The original ring, which still exists today, was made from a ring of mother of pearl which was embossed with tiny diamonds and rubies. The ring setting, or the front of the locket attachment, was set with 6 diamonds which formed the letter "E" over a blue enamel "R" for "Regina". The ring top also had a beautiful pearl. What was ingenious about this ring is that it had a secret locket compartment which opened to reveal two miniature portraits – one of Elizabeth and one of a woman with a French hood and with features remarkable similar to Elizabeth's. It could only be Anne Boleyn.