I love how Elizabeth I used portraits as propaganda and how her portraits are full of symbolism and hidden meanings, and now an analysis of a 16th century portrait of Elizabeth I has yielded a secret snake!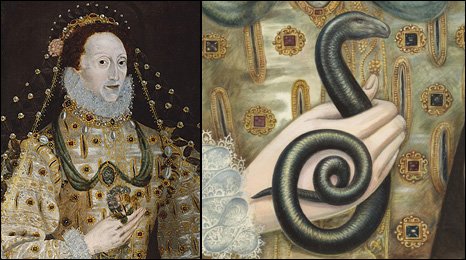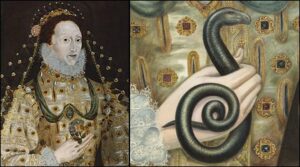 (photo from BBC News)
A few weeks ago I wrote about "The Seven Ages of Britain" series and about how David Dimbleby had discussed the symbolism used in the famous Rainbow portrait of Elizabeth I. In that portrait, Elizabeth I was shown with a snake embroidered on a sleeve, its head curving over a heart shaped pendant. Dimbleby discussed how the pendant symbolised Elizabeth's heart and the snake symbolised wisdom, giving the message that Elizabeth's heart would be governed by wisdom. But what about this new secret snake?
The Secret Snake
The National Gallery in London has found that a 16th century painting of Elizabeth I, painted in the 1580s or 1590s by an unknown painter, was changed. In the portrait, Elizabeth is depicted holding a posy of roses but as the paint has deteriorated over time the outline of a snake has become visible. It is not known why the snake, usually a symbol of wisdom, was removed and painted over, but the National Gallery has suggested that it may have been due to the link between the snake and Satan, and the serpent associated with Original Sin.
In a BBC News report, Dr Tarnya Cooper, of the Making Art in Tudor Britain project, was quoted as saying:-
"The recent technical analysis on these remarkable portraits has been critical to our understanding of Tudor painting.
The portrait of Elizabeth I with a hidden serpent is a really unusual survival. Yet, it is difficult to know exactly why the serpent may have been originally included, or how common this motif might have been. The queen certainly owned jewellery and costume including emblems of serpents, which were probably understood as a symbol of wisdom. However no other portrait of Elizabeth appears to depict her holding a snake.

"The current condition of the picture has meant it has not been on display for decades, and this display provides an exciting opportunity to present it to the public alongside other key portraits."  (from BBC News)
The portrait is due to go on display at the National Gallery in London from the 13th March, for the first time in over 80 years, as part of the "Concealed and Revealed: The Changing Faces of Elizabeth I" exhibition which runs from this month until the 26th September in Room 2.
Sources