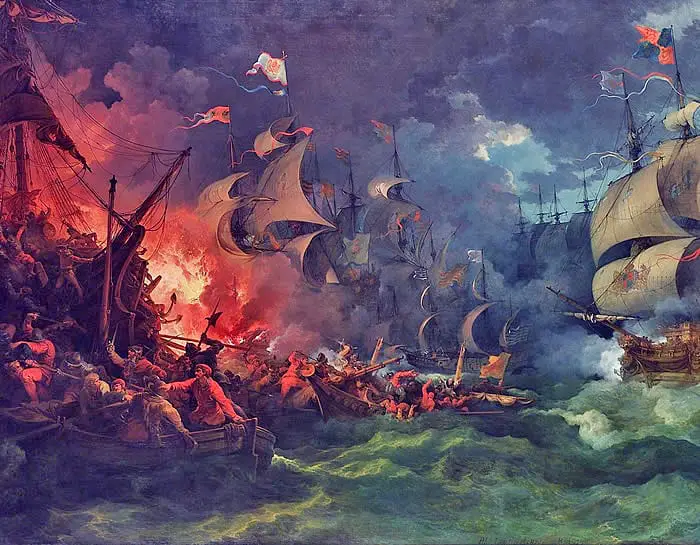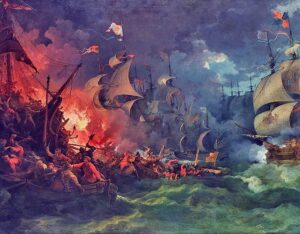 The day after the English had wrecked the crescent formation of the Spanish Armada and caused havoc, they attacked the Spanish fleet. This battle is known as the Battle of Gravelines because it took place just off the port of Gravelines, a Spanish stronghold in Flanders, part of the Spanish Netherlands, but near the border with France. The Duke of Medina Sedonia had been unable to reform the Spanish fleet at Calais, due to a south-easterly wind, and was forced to regroup at Gravelines.
The English had learned from previous encounters with the Spanish fleet and so used new and more successful tactics. They had learned from capturing the Rosario in the Channel that the Spaniards could not easily reload their guns, so with their smaller and lighter ships, the English were able to provoke the Spaniards into firing, but keep out of range, and then close in for the kill. As the Spaniards tried frantically to reload, the English ships took advantage of the situation by getting close to their enemy and firing repeatedly. The Spanish fleet were also adversely affected by the wind, which kept driving them into shallow water.
By around 4pm, both sides had run out of ammunition, although the English had been loading objects like chains into their cannons so that they could continue inflicting damage on the Spanish Armada. Spain was defeated, losing at least five ships and having several others severely damaged. Alison Weir writes that Spain lost 2,000 men compared to England's 50, a huge difference.
Notes and Sources
Elizabeth the Queen, Alison Weir, p391
The Battle of Gravelines – Section on the Spanish Armada Wikipedia page