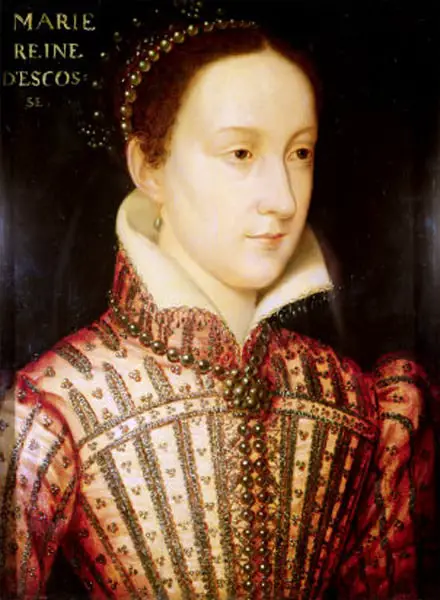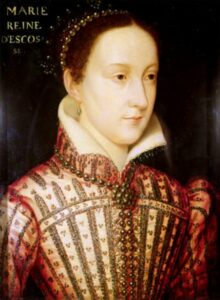 On this day in history, the 29th July 1565, Elizabeth I's nemesis, Mary Queen of Scots, married Henry Stuart, Lord Darnley, at Holyrood Palace (the Palace of Holyroodhouse), Edinburgh.
Let's celebrate their union by giving some facts about the happy couple:-
The Bride – Mary Queen of Scots
Birth: Mary, Queen of Scots, also known as Mary Stuart, Mary Stewart and Marie Stuart, was born on the 8th December 1542 at Linlithgow Palace, Scotland.
Parents: Mary's parents were James V of Scotland (son of James IV and Margaret Tudor) and Mary of Guise. She was James's only child to survive and he actually died six days after her birth.
Queen of Scotland After her father's death on the 14th December, Mary became Queen of Scotland and was crowned at Stirling in September 1543. As Mary was just an infant, the country was ruled by regents on her behalf.
Betrothals: On the 1st July 1543, at the age of 7 months, the Treaty of Greenwich, between England and Scotland, promised Mary in marriage to Henry VIII's son, Prince Edward. When the pro-Catholic and pro-French Cardinal Beaton became powerful in Scotland and joined forces with the Earl of Arran, the treaty was rejected by the Scottish Parliament and trouble began between England and Scotland. The French came to the aid of Scotland and on the 7th July 1548 a marriage treaty between France and Scotland promised the 5 year old Mary in marriage to Henry II's son, François, the Dauphin.
Upbringing: From the age of 5 until the age of 19 Mary lived in France. There she received an excellent education, learning French, Italian, Spanish, Greek, Latin and Scots, as well as music, needlework and poetry.
Return to Scotland: Francois (Francis II of France) died in 1560 and his mother, Catherine de' Medici, took control of the country, as regent for her other son, Charles IX. Mary returned to Scotland on the 19th August 1561.
Marriages: 24th April 1558 to the Dauphin François at Notre Dame. he died in 1560. 29th July 1565 to Henry Stuart, Lord Darnley, he was assassinated in 1567. 15th May 1567 to James Hepburn, Lord Bothwell, he died in 1578.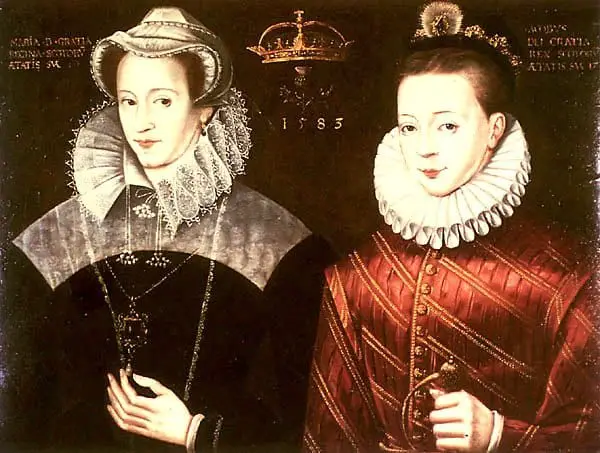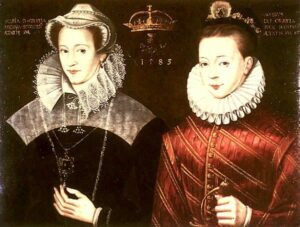 Issue: James VI of Scotland (James I of England) by Lord Darnley, born on 19th June 1566. Mary miscarried twins (fathered by Bothwell) in July 1567.
Titles: Queen of Scotland from 14th December 1542 until 24th July 1567 when she was forced to abdicate.
At the death of Mary I of England in 1558, Henry II of France declared that François and Mary were King and Queen of England and Mary started bearing the royal arms of England.
On the death of her father-in-law, Henry II of France, on the 10th July 1559 Mary became Queen Consort of France, a position she held until 5th December 1560.
Appearance: Mary, Queen of Scots, was considered a beauty. She was tall (around 5′ 11) with auburn hair, hazel eyes and a heart-shaped face.
Scandal: In March 1566, Mary's husband, Lord Darnley, and some friends murdered Mary's private secretary, David Rizzio, in front of his pregnant wife. He was jealous of Mary's friendship with Rizzio. Darnley became a real problem for Mary and the Scottish Lords and in February 1567 Darnley was killed in an explosion at Kirk O'Field. It is thought that James Hepburn, Lord Bothwell, supplied the gunpowder but he was acquitted of murder in April 1567. The famous "Casket Letters" implicated Mary in the murder of her husband, but these are generally believed to have been forgeries.
On the 24th April 1567, Mary was kidnapped by Bothwell (it is unclear whether this was planned by Mary and Bothwell) and allegedly raped. They were married on the 15th May.
Abdication: Mary was forced to abdicate from the Scottish throne in July 1567 after the Scottish Lords turned against her and Bothwell.
Claim to the English Throne: – Mary's father, James V, was the son of Margaret Tudor, Henry VIII's sister, and so was cousin of Elizabeth I, this gave her a claim to the throne. English Catholics viewed Elizabeth I as a usurper, due to her being illegitimate, and so saw Mary as the true heir after Mary I.
Involvement in Plots: As well as being implicated in her husband, Lord Darnley's murder, Mary's belief that she was the true Queen of England led to her being involved in plots to overthrow Elizabeth I. These included the Ridolfi Plot and the Babington Plot.
Downfall: Mary's downfall was her involvement in the Babington Plot of 1586. See "Mary Queen of Scots- Part One" for details.
Execution: Mary was tried in October 1586 at Fotheringhay Castle and was found guilty of being an accessory in the Babington Plot and of imagining and compassing the Queen's death. On the 29th October, Parliament ratified the commissioners' verdict and demanded that Mary be executed. Elizabeth just could not bring herself to sign the death warrant and kept putting it off, but on the 1st February she finally signed it (although she claimed that she did not intend it to be followed through). On the 8th February 1587, Mary Queen of Scots was executed at Fotheringhay Castle – see "Mary Queen of Scots – Part Two".
Resting Place: Mary was buried at Peterborough Cathedral but then moved to the Henry VII Chapel at Westminster Abbey during the reign of her son, James I of England, where there is a beautiful white marble monument marking her tomb.
The Groom – Henry Stuart, Lord Darnley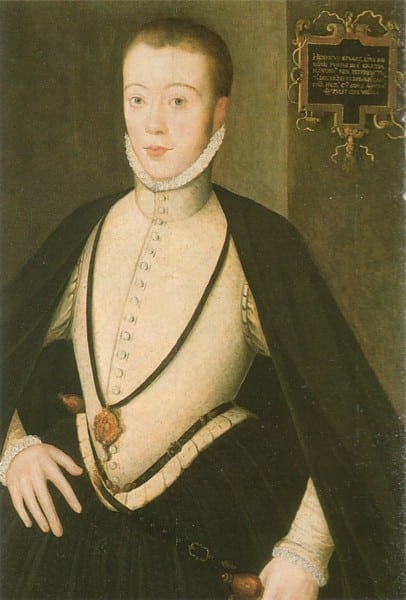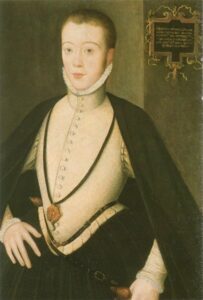 Birth: 7th December 1545 at Temple Newsam, Leeds
Parents: Matthew Stuart, the 4th Earl of Lennox and Margaret Douglas, daughter of Margaret Tudor, Henry VIII's sister.
Relationship to Mary Queen of Scots: Darnley and Mary were related not only by their marriage but by the fact that they shared a grandmother (Margaret Tudor) and were also both descended from Joan Beaufort, Queen of Scotland.
Titles: Master of Lennox (1545 – 1565), Lord Darnley (1545 – 1565), Earl of Ross and  Lord of Ardmanach (May – July 1565), 1st Duke of Albany (July 1565) and on the 30th July 1565 he was proclaimed King of Scots at the Cross of Edinburgh. In February 1565 he was given the Order of Saint Michael by the King of France.
Marriages: He was married just the once, to Mary Queen of Scots on the 29th July 1565.
Character: Darnley was said to have had a drinking problem which exacerbated his mean and violent streak. He was jealous of Mary's friendship with her secretary, David Rizzio, even believing that Rizzio was the father of the child she was carrying. His increasingly erratic behaviour, along with his desire to be awarded the Crown Matrimonial (the right to co-reign with Mary) led to him becoming unpopular.
Scandal: Darnley and a group of his supporters murdered Rizzio, by stabbing him to death (allegedly 56 times!), but were later pardoned of the crime.
Death: 10th February 1567 at Kirk O'Field, Edinburgh. Darnley was staying at Kirk O'Field while he recovered from smallpox (or possibly syphilis). On the night of the 10th February, the house was reduced to rubble and Darnley killed by an explosion caused by someone setting light to gunpowder in the cellars. His body was found in a neighbouring garden, beside that of his groom, with a dagger lying on the ground between them.
Historian Magnus Magnusson believed that Darnley had been strangled to death before the explosion because the body showed signs of strangulation. The Earl of Bothwell, his supporters and Mary herself were all suspected of being involved in Darnley's death
Notes and Sources