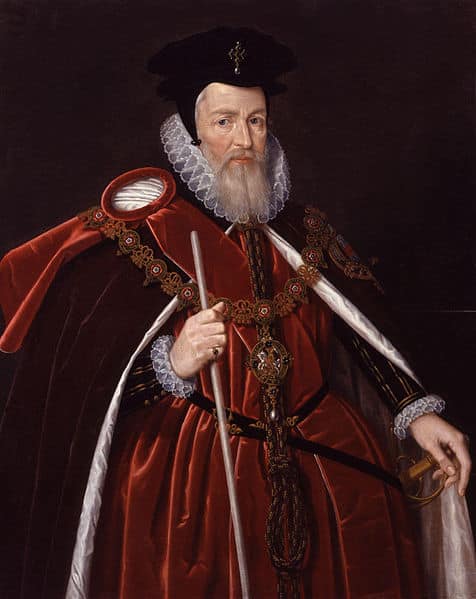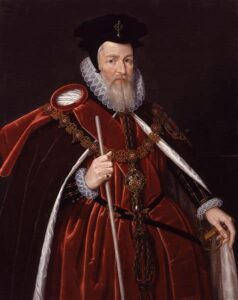 I meant to write this article to coincide with the anniversary of William Cecil's death, the 4th August 1598, so I'm sorry this is a day late. I think the best way to commemorate someone's death is to celebrate their life and what a life William Cecil had! He really was an incredible man and is one of my favourite historical characters.
Here is a bio of William Cecil:-
William Cecil, 1st Baron Burghley
Birth: 13th September 1521 in Bourne, Lincolnshire
Parents: Richard Cecil, former Groom of the Robes, Constable of Warwick Castle and High Sheriff of Rutland, and his wife Jane Heckington.
Family: William Cecil had three sisters – Anne, Margaret and Elizabeth. His grandfather David Cecil had been one of Henry VIII's favourites and was High Sheriff of Nottingham. Cecil could trace his ancestry back to an Owen from the reign of King Harold and a Sitsyllt from the time of Rufus.
Education: Cecil went to The King's School Grantham and then Stamford School. At the age of 14 he started at St John's College, Cambridge, where he met men like John Cheke and Roger Ascham. It was at Cambridge that Cecil met Mary Cheke, John Cheke's sister, and fell in love. This relationship led to Cecil's father removing him from Cambridge to Gray's Inn before Cecil had obtained his degree.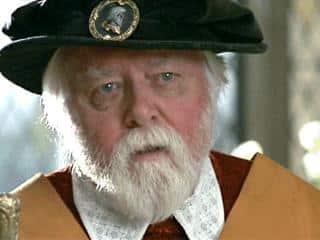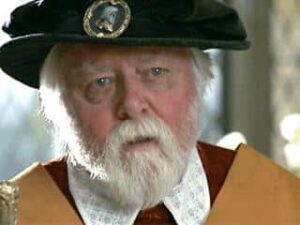 Marriage: William Cecil married Mary Cheke in 1541 against his father's wishes. He was widowed in February 1543 and went on to marry Mildred Cooke, daughter of Sir Anthony, the eminent humanist and scholar, in December 1546. According to Cecil's friend, Roger Ascham, Mildred was on a par with Lady Jane Grey as far as intellect was concerned, being one of the two most learned young women in England.
Children: A son, Thomas, in May 1542 from his first marriage to Mary Cheke. Thomas Cecil became the 1st Earl of Exeter and was a member of Elizabeth I's government. Cecil's second marriage to Mildred produced a son, Robert, in June 1563, who, after Cecil's death in 1598, became Elizabeth's leading minister. Cecil and Mildred had three daughters and two other sons, but Cecil outlived all of his children except Robert and Thomas.
Career: William Cecil started his career by serving Edward Seymour, the Duke of Somerset and Lord Protector from 1547 – 1549. He became Somerset's Master of Requests in 1548 and acted as his secretary. Fortunately for Cecil, he managed to escape harm when Somerset fell from power in late 1549, but he was imprisoned in the Tower of London for a few months. In September 1550, Cecil was made a Secretary of State in Edward VI's government, under the new "rule" of John Dudley, Earl of Warwick, and became Chancellor of the Order of the Garter in April 1551.
In June 1553, Cecil was commanded by Edward VI to sign his "Device for the Succession" naming Lady Jane Grey as heir, although he tried to resist signing it, knowing it put him in danger. When Lady Jane Grey fell from power, Cecil once more escaped from harm and although he was a Protestant he conformed to the Catholic regime of the new queen, Mary I.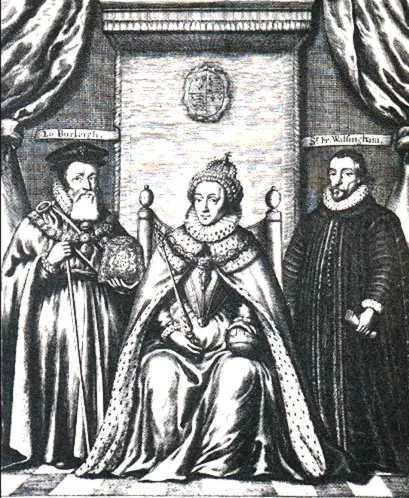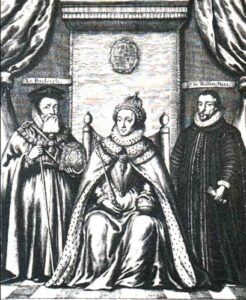 It was not until 1558 when Mary I died and Elizabeth I became Queen that Cecil once again became important in government. He had always been close to Elizabeth and she trusted him, making him her Secretary of State and chief adviser. She nicknamed him her "Spirit" and relied on his wisdom and intelligence. William Cecil was responsible for creating the intelligence service headed up by Sir Francis Walsingham.
William Cecil was temporarily banned from court for his part in the execution of Mary Queen of Scots. Elizabeth I had been putting off signing Mary's death warrant as she could not bring herself to kill a fellow queen and relative, and was also fearful of the consequences, but she did sign the warrant and gave it to William Davison, with instructions not to do anything with it until she commanded. Davison took it to Cecil and the Council, under the direction of Cecil, decided to send the death warrant and see it carried out before Elizabeth could change her mind. It was what was needed to be done and although the Queen raged at her council she eventually forgave them. Cecil had shown that he did not shy away from making difficult decisions to protect his Queen.
Titles and Offices in the Reign of Elizabeth I: Secretary of State (1558), Member of Parliament for Lincolnshire (1559) and Northamptonshire (1563), Master of the Court of Wards and Liveries (1561), Chancellor of Cambridge University (1559), Chancellor of Trinity College, Dublin (1592), Baron Burghley or Burleigh (1571) and Lord High Treasurer (1572).
Religion: William Cecil was a Protestant. Although Elizabeth I had said that she had "no desire to make windows into men's souls", Cecil did not believe in religious tolerance and said that England "could never be in safety where there was a toleration of two religions. For there is no enmity so great as that for religion; and therefore they that differ in the service of their God can never agree in the service of their country."
Death: William Cecil died on the 4th August 1598 at his home in London. His son, Robert, went on to take his place and become Elizabeth I's principal adviser. William Cecil was laid to rest at St Martin's Church, Stamford.
RIP William Cecil.
Notes and Sources