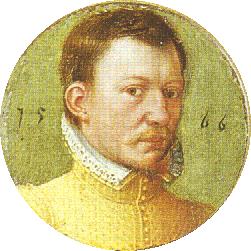 On this day in history, 14th April 1578, James Hepburn, 1st Duke of Orkney and 4th Earl of Bothwell, died aged 44 at Dragsholm Castle after being imprisoned and  held in appalling conditions by Frederick, King of Denmark, It is said that the imprisonment caused Bothwell to go insane.
Here is a factfile on James Hepburn, 4th Earl of Bothwell, and third husband to Mary Queen of Scots:-
Birth – c1534
Parents – Patrick Hepburn, 3rd Earl of Bothwell and Lord High Admiral, known as the "Fair Earl", and his wife Agnes Sinclair, daughter of Henry Sinclair, 3rd Lord Sinclair.
Titles – In 1556, on his father's death, James became 4th Earl of Bothwell and Lord High Admiral of Scotland.
Marriages – In 1559/1560 Bothwell visited Denmark on the way to France and met Anna Throndsen (Anne Thorssen). He is alleged to have seduced and even married Anne but deserted her. In 1566 he married Jean Gordon, second eldest daughter of George Gordon, Earl of Huntly, but the marriage was not a happy one as Jean accused Bothwell of adultery with her maid and seamstress, Bessie Crawford. The marriage was annulled in May 1567 on the grounds of consanguinity. Eight days after the divorce, Bothwell married Mary Queen of Scots.
Mary Queen of Scots – Bothwell was one of the men implicated in the murder of Mary Queen of Scots's second husband, Henry Stuart, Lord Darnley, who was murdered on the 10th February 1567. Bothwell was tried and acquitted. On the 24th April 1567, Mary was riding to Linlithgow Palace when she was intercepted by Bothwell, who warned her that it would be dangerous for her to carry on to Edinburgh. He offered to take her to safety to his castle at Dunbar and it was there that he took her prisoner and allegedly raped her. On the 12th May, Mary made Bothwell the Duke of Orkney and the couple were married at Holyrood on the 15th May 1567.
The Scottish Lords did not approve of the marriage and rose up against Mary and Bothwell. Mary was captured and imprisoned in Lochleven Castle, where she miscarried twins, fathered by Bothwell, in July 1567. On the 24th July 1567, Mary was forced to abdicate and her son, James, became James VI of Scotland, with James Stewart, Earl of Moray and Mary's illegitimate half brother, acting as regent. Bothwell escaped capture but all of his titles and estates were forfeited by an act of Parliament.
The End – Bothwell fled to Scandinavia but it was there that his past caught up with him. He was captured off the coast of Norway, which at that time was a Danish territory, and taken to Bergen, the home of his former love, Anna Throndsen, who then sued him for abandonment. Bothwell was able to settle the case with Anna out of court, giving her one of his ships and promising her an annuity.
Although he managed at first to gain the Danish King's goodwill, by offering to help him recapture the Orkneys and Shetland Isles, his luck ran out after the fall of Mary Queen of Scots and he was imprisoned in Dragsholm Castle, in Zealand. Solitary confinement there led to Bothwell going insane. He died on the 14th April 1578 and was buried at the church of Fårevejle (Faareveille).