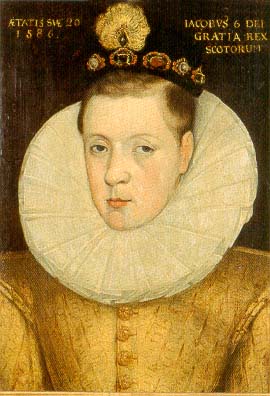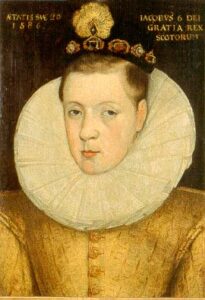 As I said in yesterday's post, Elizabeth I's death brought the House of Tudor's reign over England to an end. Henry VIII who had been obsessed with carrying on the Tudor line ended up having a son who reigned for 6 years and who never came of age, a daughter who reigned for 5 years and who died childless, and another daughter who reigned successfully for over 4o years, who was a credit to her father, but who died childless and was therefore responsible for the end of the Tudor line. Henry VIII may well have turned in his grave!
But, as I said yesterday, the man who inherited the throne on Elizabeth I's death on the 24th March 1603 did have some Tudor blood. He may have been from the House of Stuart, and the first of the Stuart monarchs to rule England, but he was the great-great-grandson of Henry VII, that first Tudor monarch.
James VI of Scotland
James was the son of Mary Queen of Scots and her second husband Henry Stuart, Lord Darnley. He was born James Charles Stuart on the 19th June 1566 at Edinburgh Castle and was descended from Henry VII of England through his mother who was the granddaughter of Margaret Tudor.
He became King of Scotland on the 24th July 1567, at the age of just 13 months, after his mother, Mary Queen of Scots, was forced to abdicate because of the uprising against her and her third husband, James Hepburn, the 4th Earl of Bothwell. His father, Lord Darnley, had been murdered at Kirk o'Field in an explosion on the 10th February 1567 and suspicions rested on Bothwell and Mary Queen of Scots. James's mother, Mary Queen of Scots, was arrested and imprisoned in Loch Leven Castle in June 1567 and even though she escaped in 1568 she never saw her son again.
James was brought up at Stirling Castle and regents were appointed to care for him and rule over Scotland on his behalf. Unfortunately, his regents were murdered one by one – the Earl of Moray in January 1570, the 4th Earl of Lennox in September 1571 and the Earl of Mar in October 1572. His final regent, the 4th Earl of Morton was executed on the 2nd June 1581 after being implicated in Lord Darnley's murder. After Morton's death, Esmé Stuart, the 4th Earl of Lennox sought to influence the young King.
The young King's education was presided over by his senior tutor George Buchanan, a man who was harsh and who subjected the boy to regular beatings to make him a good scholar and a God-fearing Protestant. Buchanan was a leading Presbyterian in the Scottish Kirk which believed that the supreme authority did not lie with the King but with the General Assembly of the Clergy and that the King was a servant of the people. Buchanan may have shaped some of James's ideas but in 1598 James VI wrote "The True Law of Free Monarchies" or the "Trew Law" in which he declared that King were called Gods, that they were divinely appointed by God and had a divine right to rule, and that they were only answerable to God. David Starkey talks of how James went beyond even Henry VIII "by claiming to be absolute in affairs of state as well as those of the Church".
After being released from Ruthven Castle in June 1583, after being kidnapped in August 1582 by some Protestant nobles who forced Lennox into exile, James assumed control of Scotland in his own right. He was 17.
On the 20th August 1589, James VI was married by proxy to Anne of Denmark and this was then followed by a formal marriage on the 23rd November in Oslo. The couple went on to have three children: Henry Frederick the Prince of Wales who died at the age of 18 in 1612, Elizabeth who became the Queen of Bohemia and Charles who became Charles I of England.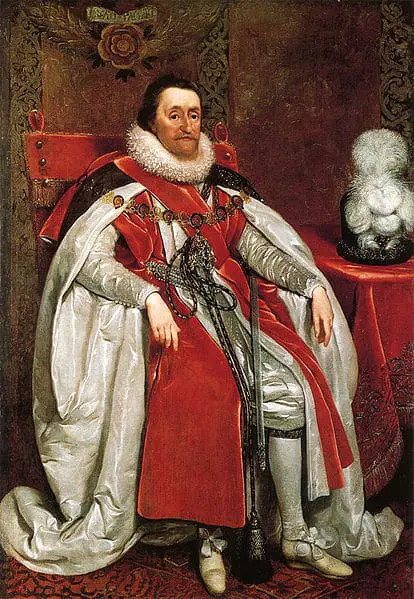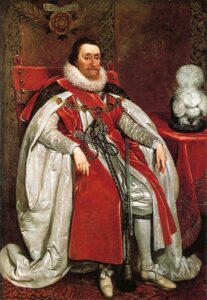 The Path to the Throne of England
In 1586, James VI signed the Treaty of Berwick with England. This treaty is described by Wikipedia as a "mutual defensive alliance" because it bound the Protestant countries of Scotland and England together in a pact against the Catholic countries of Spain and France. The treaty required Scotland to aid England in the event of invasion and vice versa, and it also meant that James would receive £4000 per year from England as an annual pension. This treaty, along with the execution of James's mother, Mary Queen of Scots, and the support James offered Elizabeth during the 1588 Spanish Armada crisis, paved the way for James to be seen as Elizabeth's heir, with the Queen being childless.
David Starkey describes how, in 1601, Elizabeth's leading ministers began to try and secure James's path to the throne of England. At Christmas 1602 Elizabeth's health began to decline and the matter of succession became all the more pressing. On the 24th March 1603, in the early hours of the morning, Queen Elizabeth I, Elizabeth Tudor, died. Within 8 hours of her death, James VI of Scotland was proclaimed James I of England and Starkey says that his first Parliament declared that he was "by inherent birthright and lawful succession the inheritor of the imperial crown of England and Scotland." The House of Stuart now reigned over England.
Sources