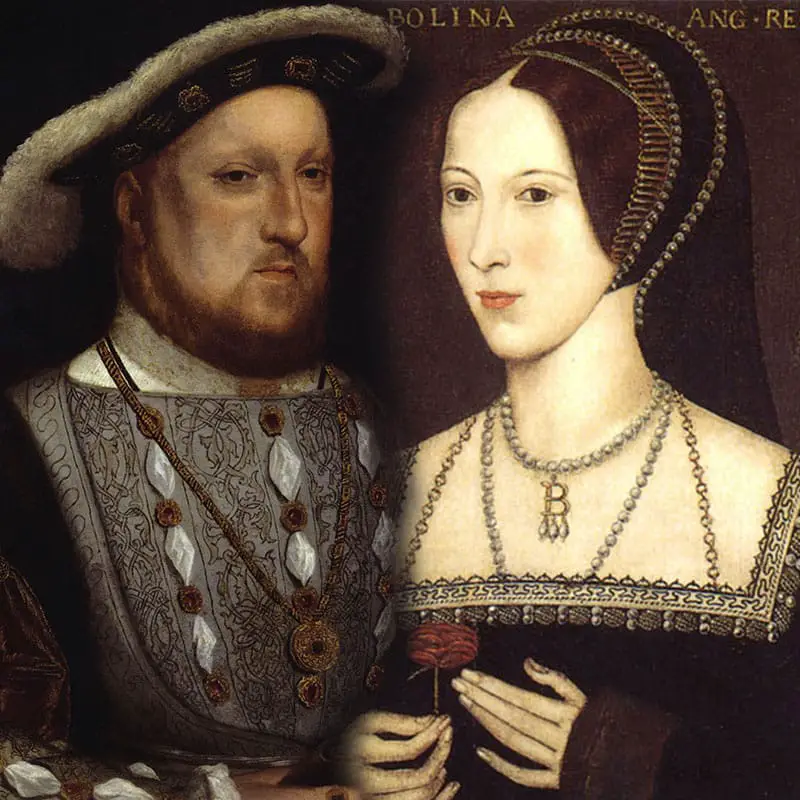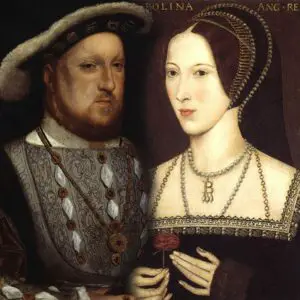 Recently, I've had a few people asking me about Elizabeth I's early life, so I decided to do a series on Elizabeth's life leading up to her accession to the throne on the 17th November 1558. Today, I am going to look at her background.
Elizabeth I's Birth
Elizabeth I was born at around 3pm on the 7th September 1533 at Greenwich Palace. Her birth was straightforward and mother and baby were both healthy and strong, there was just one problem: Elizabeth was not the expected prince, she was another useless daughter.
Elizabeth had her mother's coal black eyes and long nose, and her father's Tudor red hair, and after the initial disappointment over her gender, her birth was celebrated, although in a much more low key way than had been planned, and a lavish christening was planned. Both of her parents were relieved that their daughter was healthy and had high hopes for a future son.
Elizabeth I's Conception
Elizabeth's mother, Queen Anne Boleyn, did not enter her confinement until the 26th August 1533, under 2 weeks before she gave birth, so it is likely that Elizabeth was slightly premature. A birthdate of the 7th September would mean that Elizabeth was conceived somewhere between the 11th and 19th December 1532, but it could have been later if Elizabeth was indeed early. A conception date in December would mean that Elizabeth was conceived out of wedlock as the secret marriage ceremony between her parents did not take place until the 25th January 1532. However, the chronicler Edward Hall wrote of how Henry VIII and Anne Boleyn were actually married on St Erkenwald's Day 1532, the 14th November, just after they arrived back in England from their visit to France. Whatever the truth of the matter, we know that the couple were co-habiting after their return to England so it is likely that some kind of ceremony or betrothal took place around that time. Henry VIII had given Anne enough of a promise or commitment to make her finally relent and give him her virginity.
Elizabeth I's Parents
Elizabeth I was the daughter of Henry VIII and his second wife, Queen Anne Boleyn.
Anne Boleyn
Anne Boleyn is often described as a commoner, but this just is not true. She was the daughter of a rising star at the English Court, diplomat Thomas Boleyn, and his wife, Elizabeth Howard, daughter of Thomas Howard, the 2nd Duke of Norfolk. Like all of Henry VIII's wives, and Henry himself, Anne was descended from King Edward I, but she could actually trace her family back to him through both of her parents. Anne Boleyn had royal blood.
It is not known when she was actually born, some historians say 1501 and others say 1507 – see When Was Anne Boleyn Born?
There are many misconceptions about Anne Boleyn:-
That she was a whore and homewrecker
That she was deformed and had six fingers, a projecting tooth and a large wen, or growth, under her chin
That she was a poisoner
That she committed incest and adultery
That she was a sexual predator and tease
etc. etc., you get the picture! See "Anne Boleyn – The Mysterious and Maligned One"
The real Anne Boleyn is a bit of an enigma, but it is certain that she was none of the above, although I don't believe either that she was a Protestant martyr and that she single-handedly started the English Reformation. Whatever your thoughts on Anne Boleyn, she has gone down in history as being one of the two wives Henry VIII executed.
Henry VIII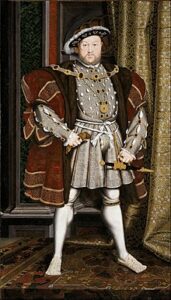 Henry VIII was born on the 28th June 1491 and was a member of the Tudor dynasty, ruling from April 1509 until his death in January 1547. He was the second Tudor monarch and was the son of Henry VII and Elizabeth of York. He married his first wife, Catherine of Aragon, daughter of Isabella I of Castile and Ferdinand II of Aragon, in 1509, and is famous for marrying six wives and executing two of them. Elizabeth's stepmothers were:-
Jane Seymour – Jane died in October 1537 just a few days after giving birth to Elizabeth's half-brother, Edward VI.
Anne of Cleves – This marriage only lasted a few months as Henry found Anne unattractive and was unable to consummate the marriage with her.
Catherine Howard – Catherine did not last long. Henry married her in July 1540 and she was executed for treason in February 1542 after it was found that she was not a virgin when she married the King and that she had been having a dangerous liaison with Henry's groom, Thomas Culpeper. It is said that it was after Catherine's execution that the young Elizabeth told her friend Robert Dudley that she would never marry.
Catherine Parr – Catherine Parr is known for reconciling the King with his daughters and she had a close bond with Elizabeth. She outlived Henry VIII, dying in September 1548.
There are many different views on Henry VIII, with some seeing him as a great monarch and others seeing him as nothing more than a tyrannical monster. Eric Ives describes Henry VIII as "the ultimate unresolvable paradox of Tudor history" and he's spot on, but whatever our thoughts on Henry VIII it is evident that Elizabeth I adored her father, she idolised him, so there must have been something in him to love and admire.
You can read more about Henry VIII in "Henry VIII – A Tyrant or just Misunderstood" and "Henry VIII: Renaissance Prince and King".
Henry VIII and Anne Boleyn's Marriage
Anne Boleyn married Henry VIII in January 1533 after a long courtship. David Starkey dates the start of their relationship back to Christmas and New Year 1524/5 and Eric Ives dates it back to Shrovetide 1526. Either way, it was a long courtship caused by the fact that the King was already married and needed to get an annulment. Henry VIII had been troubled that his marriage to his brother's widow, Catherine of Aragon, was 'cursed' in that it was contrary to Biblical law. Leviticus 20 verse 21 said: "And if a man shall take his brother's wife, it [is] an unclean thing: he hath uncovered his brother's nakedness; they shall be childless." Henry had convinced himself that Catherine had been unable to give him a surviving male heir because their marriage was not valid. In Holy Week 1533, a few months after Henry and Anne's secret marriage, Catherine of Aragon was told that her marriage to Henry had been annulled and that she was now the Dowager Princess of Wales, Anne Boleyn was Queen.
Elizabeth I's Siblings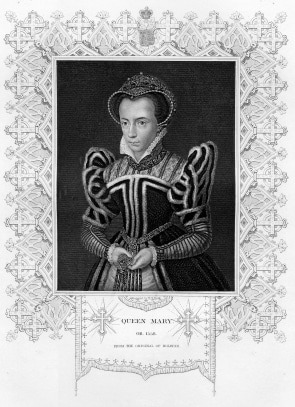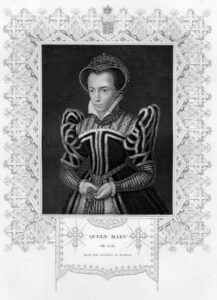 Although Elizabeth was her mother's first child, she actually had a half-sister from her father's first marriage. This half sister had been the Princess Mary but her status was downgraded when her parents' marriage was annulled in 1533. As a result of the marriage being annulled, and therefore deemed to have never existed, Mary was made illegitimate and she became known as the Lady Mary.
Mary was born on the 18th February 1516, making her 17 years old when Elizabeth was born. Her father ordered her to help care for Elizabeth in Elizabeth's household but this, and her diminished status, did not prevent Mary from being very fond of her little sister in Elizabeth's childhood.
When Elizabeth was four years old, her father's third wife, Jane Seymour, gave birth to Prince Edward, the future Edward VI (1547-1553) who became King when he was just 9 years old. Edward grew up being close to both of his sisters, particularly Elizabeth as they were much closer in age, but before he died in July 1553, the boy king created a document "My Devise for the Succession" in which he removed his half-sisters from the succession and named the Protestant Lady Jane Grey as his successor. Lady Jane was queen for just 13 days as she was deposed on the 19th July by Edward's half-sister, Mary, who was proclaimed Queen Mary I.
Mary reigned as queen from July 1553 until her death on the 17th November 1558. Although she and Elizabeth had had their difficulties, including Mary imprisoning Elizabeth in the Tower of London and also keeping her under house arrest, Elizabeth was named as her successor and became Queen. The rest, as they say, is history! Queen Elizabeth I reigned for over 44 years.
You can find out more about Elizabeth's background in the following articles:-