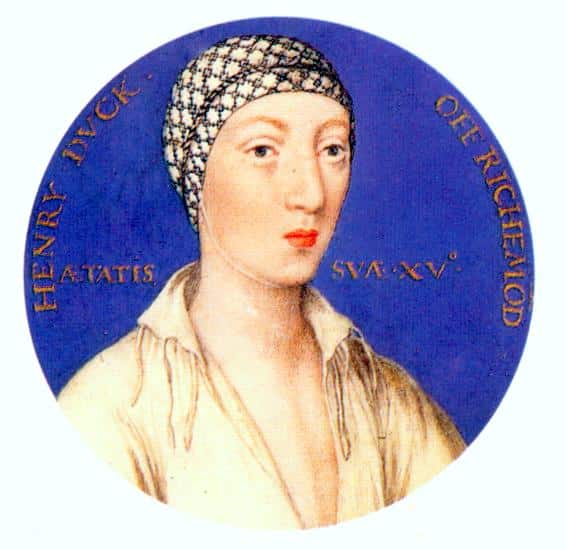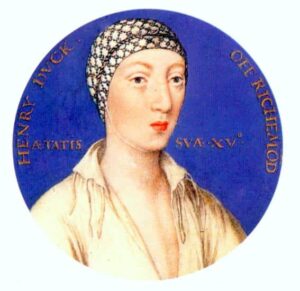 In my previous article on Elizabeth I's early life, Elizabeth I's Early Life – Family Background, I looked at Elizabeth's immediate family, her parents and her half-brother and -sister, but I did not look at people who were alleged to be her illegitimate siblings. Today, I'm going to look at the children who could have been Elizabeth's other half-brothers and -sisters:-
Henry Fitzroy, Duke of Richmond
Henry Fitzroy was born on the 15th June 1519 and was the son of Elizabeth's father, Henry VIII, and his 17 year old mistress Elizabeth Blount, also known as Bessie Blount. Although he was married to Catherine of Aragon at the time, Henry VIII openly acknowledged that little Henry was his son so the boy was given the surname of "Fitzroy", the Norman-French surname meaning "son of the King" which was a name given to monarchs' illegitimate sons.
In 1525, at the age of 6, Fitzroy was enobled. His first title was the Earl of Nottingham and then he was also made the Duke of Richmond and Somerset. This double dukedom made Fitzroy the highest ranking noble in England.
Fitzroy was said to look like his father and he was close to his father, often visiting court. Henry VIII also took an interest in the boy's upbringing and education. On the 25th November 1533 the 14 year old Fitzroy married Lady Mary Howard, daughter of the Duke of Norfolk, uncle of the then queen, Anne Boleyn. Fitzroy next crops up in the list of the peers who made up the jury at Anne Boleyn's trial on the 15th May 1536 and he was present at her execution on the 19th May 1536.
Fitzroy died on 22nd July 1536 at St James's Palace of tuberculosis. He was laid to rest firstly at Thetford Priory, Norfolk, and then moved to St Michael's Church, Framlingham, Suffolk. His wife, Mary, was laid to rest in the same tomb after her death in 1557.
You can read more about Henry Fitzroy in my article Henry Fitzroy, Duke of Richmond and Somerset over at The Anne Boleyn Files.
The Careys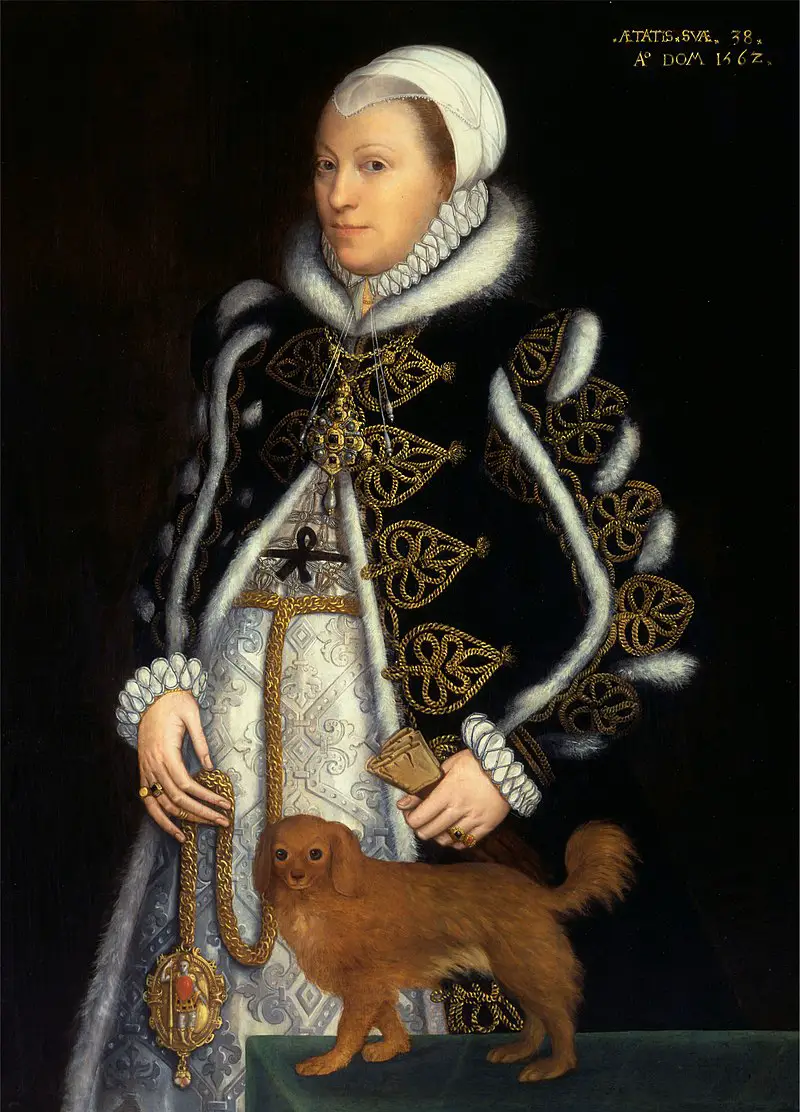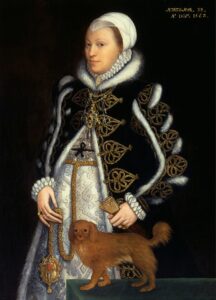 Catherine Carey (born c1524) and Henry Carey (born March 1526) were the children of Mary Boleyn, sister of Anne Boleyn. Mary was the King's mistress before his relationship with Anne Boleyn and it is thought that she became his mistress either during his previous mistress Bessie Blount's pregnancy in 1519 or when Bessie married in 1522. Mary Boleyn married William Carey in 1520 and their children were born in 1524 and 1526.
William Carey was given royal grants between 1522 and 1525, and possibly in 1526, and some people believe that this suggests that he was being rewarded by the King for the use of his wife. If Mary was the King's mistress between 1522 and 1526, then her children could well have been the King's. There is, however, no proof that Catherine and Henry Carey were fathered by Henry VIII and he never recognised them as his children. You can read the arguments for and against the Careys being Henry VIII's children in my article "Mary Boleyn Part Two – The King's Children".
Catherine Carey is mentioned in the records in 1540 when she became a lady-in-waiting to Anne of Cleves, Henry VIII's fourth wife. She married Sir Francis Knollys in April 1540 and after the annulment of the Cleves marriage she went on to serve Catherine Howard, Henry's fifth wife. When her cousin, Elizabeth I, became queen, Catherine's husband joined the Queen's privy council and Catherine became a lady of the privy chamber, serving Elizabeth as the Chief Lady of the Bedchamber. The two women were very close friends and when Catherine died in January 1569 Elizabeth gave her a lavish funeral. Was this because she was actually Elizabeth's half-sister or was it simply because Elizabeth loved and respected her cousin?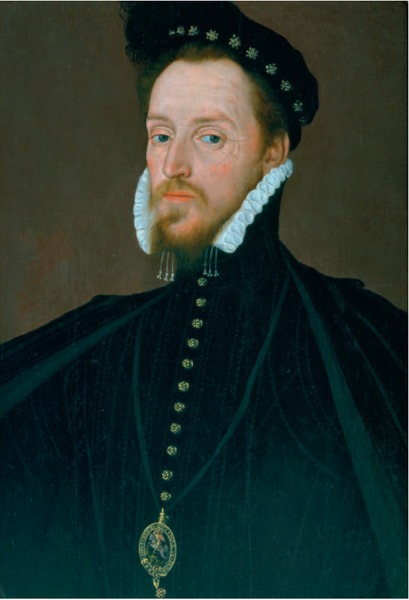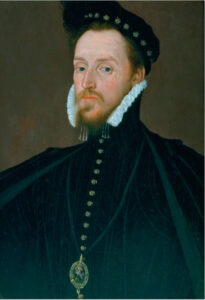 In 1528, the two year old Henry Carey became Anne Boleyn's ward after the death of his father, William Carey. It was his aunt, Anne, who ensured that the boy received a top notch education under the famous French poet, Nicholas Bourbon. This education helped Henry become an important and influential courtier. In 1547 he became a Member of Parliament and when his cousin (or half-sister!) came to the throne in November 1558 he was knighted. He was one of Elizabeth I's favourites and his offices and titles included: 1st Baron Hunsdon, Master of the Queen's Hawks, Knight of the Garter, Lieutenant General, Warden of the East Marches, Keeper of Somerset House, Privy Counsellor, Captain General, Lord Chamberlain of the Household, Lord Chamberlain Lieutenant, Principal Captain and Governor of the Army, Chief Justice in Eyre, High Steward of Ipswich and Doncaster, Chief Justice of the Royal Forces and High Steward of Oxford.
Henry Carey died on the 23rd July 1596 at Somerset House and it is said that Elizabeth I offered him the title of Earl of Wiltshire on his deathbed, but he refused, saying "Madam, as you did not count me worthy of this honour in life, then I shall account myself not worthy of it in death." Like his sister, he was laid to rest in Westminster Abbey.
In her book, "The Other Tudors: Henry VIII's Mistresses and Bastards", Philippa Jones writes of how Henry VIII may well have had five illegitimate children: Henry Fitzroy, Henry Carey, Ethelreda Malte, John Perrot and Thomas Stukeley! Have you heard of the last three? Well, you have now…
John Perrot
John Perrot was born between 1527 and 1530 in Pembrokeshire and was the son of Mary and Sir Thomas Perrot, or was he? Philippa Jones writes of how "he was widely believed to be the son of Henry VIII"1.
John's mother, Mary Berkeley, had served Henry VIII's first wife, Catherine of Aragon and she was "a good musician, poetess, literate, lively, witty and pretty."2 The King was a friend of her husband, Sir Thomas Perrot, a keen huntsman, and Jones believes that Henry VIII began an affair with Mary after noticing her when he came to visit and hunt. Jones writes of how Mary's son, John, was said to resemble the King, being tall and auburn haired, and when the King found John fighting with two of his Yeoman of the Guard he chose to give him a Promise of Preferment instead of sending him to jail. Was it because he was his son? Jones seems to think so!
John later became friends with Henry VIII's legitimate son, Edward VI, and was made a Knight of the Bath at his coronation. In Mary I's reign, although John was a Protestant and was reported for hiding heretics in his house, he managed to escape serious punishment and was just imprisoned for a short time. At Elizabeth I's coronation in 1559, he was one of the men chosen to bear her canopy of state and in 1562 was made Vice-Admiral of the South Wales coast and Keeper of the jail at Haverfordwest. In 1570 he became Mayor of Haverfordwest and in 1571 he was involved in suppressing a rebellion in Ireland, ordering the hanging of around 800 rebels. He was rewarded for his work in Ireland by Elizabeth who gave him Carew Castle in Milford Haven and land.
Sir John Perrot later joined the Council in the Marches of Wales, working hard to stop piracy along the Welsh coast. In 1584 after his "Discourse" of 1581 giving the Queen advice on the governing of Ireland, he was appointed Lord Deputy of Ireland and spent 4 years there, although it was a troubled time and Perrot was stuck between a rock and a hard place, trying to reward the English and keep the Irish people happy, and all the while his enemies at the English Court were ganging up on him.
In July 1588, Perrot returned to England where he faced many questions about the situation in Ireland and accusations that he had made decisions against orders. He was able to rebut these charges and was made a member of the Queen's privy chamber in 1589, however, trouble seemed to follow him and in 1590 new accusations of treason were made against him. Perrot was accused of offering to help Philip of Spain conquer England and Ireland in return for Perrot being given Wales. The letters produced by Sir Dennis O'Rowghan were forgeries and O'Rowghan was condemned for counterfeiting Perrot's writing and signature. Although O'Rowghan had been dealt with, Perrot's enemies kept up the pressure and he was accused of speaking rudely of the Council, King James VI and Elizabeth I. Perrot was arrested, kept under house arrest at Lord Burghley's house and then sent to the Tower of London. Just over a year later, in April 1592, he was tried for treason, found guilty and returned to the Tower. As he was led to his prison, it is said that he exclaimed "God's death! Will the Queen suffer her brother to be offered up a sacrifice to the envy of his frisking adversary"3. Perrot was later sentenced to death but he died in the Tower of London in September 1592 from illness. He died a destitute, convicted traitor, but the Queen did allow his estate, which had been seized by the Crown, to pass on to his eldest son, Thomas.
Thomas Stukeley
Thomas Stukeley was born c.1523-1530 and was the son of Jane Pollard, daughter of Sir Lewis Pollard, and her husband Sir Hugh Stukeley of Affreton, Devon, although Jones writes that it was common belief that he had actually been fathered by Henry VIII. Jones explains that he looked like the King and that "the behaviour of Edward VI, Mary I and Elizabeth I towards Thomas indicates that they also believed that he was the King's son, especially since he created havoc and escaped without punishment: a spy, a double agent, a pirate, a bankrupt, a forger, a liar, a fraudster and, finally, a traitor, Thomas suffered no more than a few months in prison as a result."4 Could his blood ties to the monarch have saved him?
Jones believes that Henry VIII had an affair with Jane Pollard during the period when he had lost interest in his first wife, Catherine of Aragon, and was pursuing his new love, Anne Boleyn. Jane's husband was a politician and entertained the King at his home in Devon. The King could have slept with Jane there or in London when Stukeley was there on business. Jane's son, Thomas, served the King's friend, Charles Brandon, the Duke of Suffolk, until the Duke's death in 1545 and he is recorded as being the King's standard bearer at Boulogne in 1547. After his time in France, he joined the household of Edward Seymour and was there until Seymour's fall, when he is believed to have entered Henri II of France's service.
Stukeley returned to England in September 1552 after apparently agreeing to become a spy for France. Instead, he told William Cecil of Henri II's plot against England and then offered to act as a double agent by returning to France, claiming that he had a close relationship with the King. His story was found to be a lie and he was imprisoned in the Tower of London. In 1553, Stukeley was released and travelled to the Emperor's Court in Brussels, with the Duke of Savoy, taking a letter of recommendation from the new monarch, Queen Mary I. He decided to act as an English secret agent, offering to send Mary a copy of a letter written by Henri II to his ambassador in England saying that he would offer help to anyone wanting to revolt against Mary's plans to marry Philip of Spain.
In May 1555, a debt ridden Stukeley, who was now back in England, was in trouble for circulating counterfeit money. He escaped punishment and in 1557 was one more serving the Duke of Savoy, under the leadership of the Earl of Pembroke. In 1558, he managed to ease his money worries by looting the estate of his ward, his sister Mary's son, but the Privy Council quickly took steps to stop him. Fortunately for Stukeley, his father-in-law died in 1559 and his wife inherited, although it appears that Stukeley quickly squandered the money.
In 1559 Stukeley was working in the service of Sir Thomas Parry, Elizabeth I's Treasurer and Master of the Wards, and also Sir Henry Neville, Sheriff of Berkshire. In 1561 he was captain of the forces at Berwick and it was there that he used up the last of his wife's inheritance, becoming poor once more. By 1563 Stukeley had become a licensed privateer and decided to put together a fleet to travel to Florida and found a new colony. He got as far as Ireland and broke the rules of his privateer licence by attacking Spanish ships as well as French ones. Stukeley was once more in trouble but managed to escape punishment once more and was sent to Ireland, by Cecil and Elizabeth I, to work as a liaison officer between his friend, Shane O'Neill, and Sir Henry Sidney, but he was to be disappointed if he thought that he would be rewarded with land in Ireland.
In 1569 Stukeley was in trouble yet again for reportedly saying "I care not a fart for her [Elizabeth I] nor yet for her office."5 He was imprisoned for 17 weeks for speaking against the Queen and when he was released he set about contacting Spain and offering his services to the King. He travelled to Spain in August 1570 and in January 1571 was sent by King Philip to Rome to seek the Pope's support for their move against England. The Pope, however, was busy with his war with the Turks. Stukeley returned to Spain and then next crops up fighting in Don John's forces at the Battle of Lepanto that October.
In the 1570s, Stukeley was again working as a spy, providing Spain with various French and English documents. They were, however, forgeries and Philip of Spain was not taken in. However, Stukeley managed to work his way back into favour again by bringing some English sea captains over to the Catholic Imperial side during the plot to invade England and replace Elizabeth with Mary Queen of Scots. Stukeley was said to be organising a fleet of 100 Spanish ships to conquer Ireland. In 1578, Stukeley sailed to Lisbon where he was persuaded by Sebastian, King of Portugal, to help him fight against the Ottoman Turks in Africa in return for aid in the planned Irish invasion. On the 4th August 1578, in Morocco, both the Portuguese king and Stukeley were killed in the Battle of the Three Kings. Stukeley's legs were blown off by a cannon ball.
Ethelreda (Audrey) Malte
Ethelreda Malte was the daughter of Joanna (or Joan) Dingley and John Malte, Henry VIII's tailor. It is alleged, however, that in 1546 the sick King Henry VIII asked Malte, who had been his loyal servant for over 20 years, to take care of his illegitimate daughter, Ethelreda, and bring her up as his own child. Henry VIII granted Malte and Ethelreda some land:-
"John Malte, tailor, and Ethelreda Malte, alias Dyngley, bastard daughter of the said John Malte by Joan Dyngley, alias Dobson. Grant for £1,311 2d of the lordship and manor of Kelveston, Somerset, the lordship and nanor of Easton and Kateryn, Somerset, the chief messuage called Katerns courte and lands… 400 ewes…in Eston, Kateryn and Ford. Somerset – Bathe Priory. To hold to the said John Malte and Ethelreda and the heirs of the body of the said Ethelreda, with remainder to the right heirs of the said John."6
Was this grant and transfers of property simply a reward for loyal service or had the King "settled his daughter with a man he trusted, and left her well provided for"?7
Malte made sure that Ethelreda was given a formal education and also settled land on her himself. In 1547, both Henry VIII and Malte died and Ethelreda became a wealthy woman. Ethelreda married John Harrington in 1548 and although some write that Ethelreda died without issue, Philippa Jones writes of her having a daughter called Esther. It is believed that Ethelreda died in 1555.
There are two records backing up the story that Ethelreda was the King's daughter:-
That of Henry Harrington, who wrote "This Esther [sic] was a natural daughter of the King's, to whom he gave as a dower the lands belonging to Bathe priory or a part thereof."8
The Reverend John Collinson, "History of Somerset" 1791: "The king's natural daughter, begotten upon the body of Joanna Dyngley, alias Dobson, which Ethelred was committed to the care of the said Malte, who was the king's tailor, for education; and the king, having special love and regard for her, granted these estates to her use and benefit; but she always passed for Malte's natural daughter…"9
But who was Ethelreda's mother?
She's actually a bit of a mystery. The Wikipedia page on Ethelreda Malte says that Ethelreda's mother was Joan Dingley, the royal laundress, and Malte's will of 1547 leaves his estate to Ethelreda "begotten on the body of Joane Dingley" and also leaves £20 to "Joane Dyngley, otherwise Joane Dobson."10
But who was Joan or Joanna?
Philippa Jones writes that the problem in discovering who she was is down to her not being a noble lady and therefore not being recorded. She must, however, have been in a position to have met and had an affair, or one night stand, with the King. Philippa Jones wonders if she was Joan Parker, wife of Thomas Parker of London, widow of James Dingley and Michael Ashfield, and daughter of Sir John Moore of Worcester. Jones says:-
"Since Joan was the daughter of Sir John Moore, and she had married an Ashfield and a Parker, kinsmen to each other and to Abbot Parker, a friend and supporter of the King, Joan would have been in a position to meet Henry VIII."11
Jones puts forward the idea that Joan may have had an affair with the King in 1534, when she was married to Dingley, and that she was the anonymous "new mistress" that Henry had in Spring 1534, the woman Anne Boleyn complained about. We will never know, but would Anne Boleyn really have been concerned about Henry having a fling with a woman who was only a minor noble?
Conclusion
All we know for sure about Henry VIII and his children is that he had three legitimate children – Mary, Elizabeth and Edward – and one recognised illegitimate son – Henry Fitzroy. Henry VIII may have had an affair with Mary Boleyn and other women but he never formally recognised their offspring as his own. It is all a mystery!
Notes and Sources
"The Other Tudors: Henry VIII's MIstresses and Bastards", Philippa Jones, p149
Ibid.
Ibid., p181
Ibid., p119
Ibid., p133
Ibid., p214
Ibid., p215
Ibid.
Ibid.
Ibid., p217
Ibid., p219