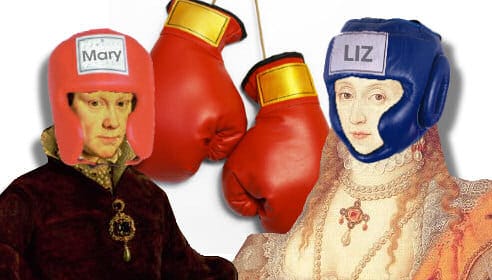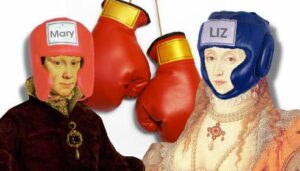 Today is Mary I's birthday as she was born in the early hours of the 18th February 1516 at the Palace of Placentia in Greenwich, London.
I have written about her birth over at The Anne Boleyn Files – see The Birth of Mary I: 18 February 1516 – but it struck me as I was writing about Mary that just like there is a whole Team Anne (Boleyn)/Team Catherine (Aragon)/Team Jane (Seymour) thing going on with Henry VIII's wives, there is also a Team Mary/Team Elizabeth thing going on with his daughters. Some people feel the need to choose sides, they think that if they admire Elizabeth I then they have to vilify Mary, but it's just not true. It is very easy to paint Elizabeth as the golden girl, the daughter Henry VIII would have been so proud of, and Mary as damaged goods. Elizabeth as the one who rose above her childhood and past to be Gloriana and Mary as the one who became bitter and twisted as a result of her past and whose reign was one of cruelty and failure. Bloody Mary versus The Virgin Queen, the Monster versus The Faerie Queene, Kathy Burke versus Cate Blanchett… I can't help but applaud The Tudors (even though I spend half my time watching it shouting at the TV!) for its represention of Mary, for the strength of her character and for Sarah Bolger's incredible performance. I also applaud Linda Porter for her biography of Mary, "Mary Tudor: The First Queen", which gives a real insight into Mary and educates the reader about her whole life and reign.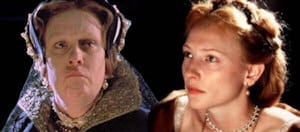 I know I'm on my soapbox and I know many will disagree with me, citing Mary's treatment of Elizabeth, the execution of Lady Jane Grey and the burnings of people like Cranmer, Latimer and Ridley etc. BUT Elizabeth was no teddy bear, was she? Of course, I admire Elizabeth I hugely, otherwise I would not be running a website dedicated to her, but she executed people (notably Mary Queen of Scots and the Earl of Essex), she had mood swings and threw people into the Tower for marrying without her permission etc. Some historians even argue whether her reign really was a Golden Age. All I am saying is that we don't have to choose between these sisters, we can admire both, after all, they overcame the odds and became monarchs in what was definitely a man's world.
What are your thoughts on the daughters of Henry VIII?