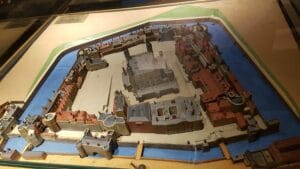 On this day in history, 19th May 1554, the 18th anniversary of her mother Anne Boleyn's execution at the Tower of London, Elizabeth was released from her prison in the Tower of London and placed under house arrest. She had been a prisoner there since 18th March 1554, Palm Sunday, after her half-sister, Queen Mary I, ordered her arrest for her alleged involvement in Wyatt's Rebellion.
Nobody knows what was going through Elizabeth's mind as she left the Tower on the anniversary of her mother's execution, but being released from the Tower was not a relief for the young woman as she feared that she was going to be assassinated on her way to Woodstock, where she was going to be placed under house arrest.
You can read more about Elizabeth's imprisonment in the Tower and her time at Woodstock in my article "The Imprisonment of Elizabeth".
You can find out all about Anne Boleyn's execution and the events leading up to it over at The Anne Boleyn Files (there is a countdown each May) and also "The Events of May 1536" page.