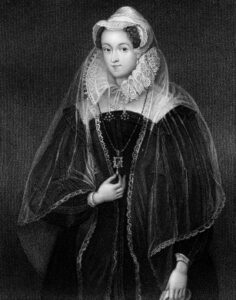 On the morning of the 8th February 1587, Mary Queen of Scots was executed at Fotheringhay Castle. It was a brutal death, taking three blows of the axe (some say that it was two blows followed by the executioner sawing her neck!) to decapitate this ill-fated queen.
As the executioner held up her head to show the crowd, he was left holding her cap and wig as her head, with its close cropped grey hair, fell onto the scaffold.
Mary approached the straw covered scaffold, turned to her loyal ladies and said "Thou hast cause rather to joy than to mourn, for now shalt thou see Mary Stuart's troubles receive their long-expected end." As the Dean of Peterborough prayed aloud in English, Mary read her Catholic Latin prayers louder, and then refusing the help of the executioner, took off her black gown to reveal a scarlet bodice and petticoat. The vivid scarlet of her clothes proclaimed that she was considered herself a martyr to the Catholic faith. The story has it that as the body was moved to remove the clothing, Mary's little dog crept out from under her coat and then lay down between the head and body of his mistress. How sad.
Agnes Strickland, the Victorian historian, wrote of how Elizabeth I's council were afraid to tell her of Mary's execution, having proceeded with it secretly, and when she was told the reason for the bonfires and bells ringing, "she burst into a passionate fit of weeping, sharply rebuked her council and bade them quit her sight at once, saying that she had never commanded nor intended the execution of Mary Stuart." She had, of course, signed the death warrant so that's not completely true.
You can read more about the execution of Mary Queen of Scots in my detailed article at "The Execution of Mary Queen of Scots".
Also on this day in history…
1554 – Surrender of rebel Thomas Wyatt the Younger into the custody of Sir Maurice Berkeley
1555 – Burning of Protestant martyr Lawrence Saunders at Coventry
1601 – Robert Devereux locked up the Earl of Worcester and three councillors at Essex House and then led a rebellion of 300 men to march on London. By 3pm, 200 of his men had mutinied so Essex tried to head back to Essex House. He was forced to surrender that night and was taken to Lambeth Palace and then the Tower of London. Read more about the Earl of Essex, his rise and fall, in my article "The Execution of Robert Devereux, 2nd Earl of Essex"