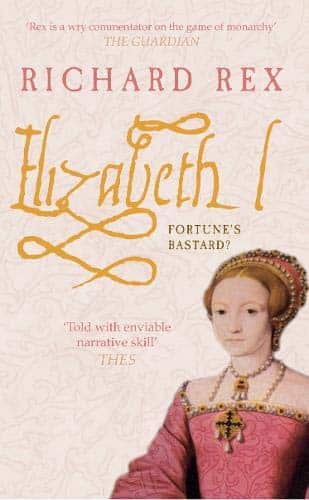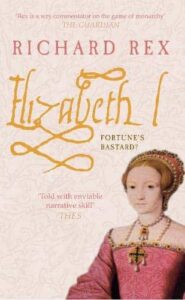 Amberley Publishing, the publisher of this biography of Elizabeth I, describe this as "An accessible biography of Elizabeth I by a leading Tudor expert" and say:-
"Elizabeth I stands in the English imagination for one of the formative phases of English history. Her reign saw England transformed, at her command, from a Catholic to a Protestant country, with incalculable consequences for the history of Europe and of the world – starting with the attempted invasion by the Spanish Armada, beaten off by the Queen's legendary naval captains.
Richard Rex highlights the vivid and contrary personality of a Queen who could both baffle and bedazzle her subjects, her courtiers, and her rivals: at one moment flirting outrageously with a favourite or courting some foreign prince, and at another vowing perpetual virginity; at one time agonising over the execution of her cousin, Mary Queen of Scots, then ordering the slaughter of hundreds of poor men after a half-cock rebellion. Too many biographies of Elizabeth merely perpetuate the flattery she enjoyed from her courtiers, this biography also reflects more critical voices, such as those of the Irish, the Catholics and those who lived on the wrong side of the emerging North/South divide. To them she showed a different face."
When Amberley say "accessible", I suspect that they mean that this book is readable and with its total of 142 pages, including illustrations, and index, it is not offputting like Anne Somerset's book, which is as thick as my Bible, or even Alison Weir's "Elizabeth the Queen" which is over 500 pages. Its brevity is not a shortcoming in any way as Rex is an adept writer who manages to come straight to the point and say a lot in just a few words. Rex is a renowned Tudor scholar and is Director of Studies in History at Queens' College, Cambridge. His other books include "Henry VIII & the English Reformation", "Henry VIII", "The Tudors", "The Theology of John Fisher" and "The Lollards".I would highly recommend this book for someone who is just starting out researching Elizabeth I or who just has not got time to read the longer books.
So, here's the lowdown on "Elizabeth I: Fortune's Bastard"…
An Overview of Elizabeth I: Fortune's Bastard
This wonderful book on Elizabeth I's life and reign is divided into the following sections:-
Preface – Here, Rex sets the scene for his book and explains the meaning behind the book's dedication "In memory of the hundreds of northern men hanged under martial law in January 1570" and says that we should not look on Elizabeth's reign with rose-tinted spectacles and think of it as a time of tolerance, as many would have us believe, because "Elizabeth's England was to see Catholic priests hanged, drawn and quartered not merely in London but in many other towns throughout the 1580s and '90s" and that in 1569 alone a staggering 900 men were executed after the rising of the northern earls. As Rex points out, this could be an exaggeration, and could be "only" 450, but we call Mary I "Bloody Mary" yet during her whole reign 300 protestants were burned – hmmm…
Chapter 1 Birth: 1533 – A short chapter giving details of Elizabeth's birth and parentage.
Chapter 2 Early Years: 1534-1553 – An interesting chapter detailing Elizabeth's education and intelligence, her political value as a diplomatic pawn, her father's death, her first interrogation in the Tower over Seymour's alleged plans to marry her and her relationship with her half brother, Edward VI.
Chapter 3 Elizabeth & Mary: 1553-1558 – Takes the reader from Edward VI's deat, through Mary's defeat of the Lady Jane Grey regime to the end of Mary's reign. Rex looks at the relationship between Elizabeth and Mary, Mary's treatment of her younger half sister and how Elizabeth was used a a figurehead of rebellion. He concludes, however, that Elizabeth had nothing to gain from being involved in such rebellions and that "all she had to do was wait".
Chapter 4 Accession: 1558 – This chapter covers the death of Mary I , Mary's legacy and the setting up of Elizabeth's council.
Chapter 5 The Alteration of Religion:1559 – An interesting chapter which starts by looking at Elizabeth's own religious beliefs and how she is sometimes viewed as being a political Christian, rather than a sincere one, but Rex writes how Elizabeth actually read scripture on a regular basis and "theologically lukewarm and politique as it may have been, her Protestantism was genuine enough" and that Elizabeth based her very right to the throne on the authority of the Bible, on the fact that the Bible was, in her opinion, in opposition to Catholicism. A great chapter about Elizabeth's religious stance and how she turned the country back round to Protestantism.
Chapter 6 Scotland & The Succession – In this chapter, Rex looks at the French and Scottish threat, Elizabeth's diplomacy and how she handled foreign visitors and opposition, her views on marriage and the question of the succession and the rumours that surrounded her relationship with the Earl of Leicester.
Chapter 7 Mary Queen of Scots & the Catholic Problem: 1568-1580 – Mary Queen of Scots was a thorn in Elizabeth's side and a constant threat to Elizabeth's throne and safety, and here Rex looks at how Elizabeth dealt with this threat and how she eventually had to act against the Catholics, even though she had once said that she would not open windows into men's souls.
Chapter 8 War with Spain: 1580-1588 – This chapter covers the problems with Spain, including Philip of Spain's links with the Catholic Guise dynasty, Mary Queen of Scots' French relations, the Babington Plot, Mary's execution, the Armada and Elizabeth's problems with Ireland.
Chapter 9 The Earl of Essex 1589-1601 – Rex writes of how "English politics in the 1590s was dominated by the figure of the queen's new favourite, Robert Devereux, Earl of Essex" and in this chapter we learn all about this new favourite, the headaches he caused his queen and how he came undone and was eventually beheaded. Essex was not Elizabeth's only problem in the 1590s though, Elizabeth also had to deal with the financial problems caused by war with Spain, her intervention in France and the Irish rebellion. Just how did Elizabeth get through these years?
Death: 1603 – A chapter of just 3 pages looking at Elizabeth's death and how James VI of Scotland was chosen as heir.
Further Reading – Some great book recommendations for those who want to delve deeper into Elizabeth I's reign and life.
As you can see, this book covers the main issues and events from Elizabeth I's reign and is a brilliant overview. I did find it slightly odd that it did not have a bibliography/list of sources but the "Further Reading" section is very useful. All in all, it is a well-written, informative and easy to read book and it will fit into a Christmas stocking!
Buy now from Amazon US or Amazon UK or at your usual bookshop.
News
New Opulence Range of Luxury Jewelry Launched – See our introductory four pieces featuring beautiful Swarovski crystals and 14k gold-plated pendants, chains and fixings, gorgeous. Although we haven't got a Black Friday sale here,  we are offering 10% off orders placed on our Opulence site between now and the 4th December. Simply type LAUNCH10 into the coupon code box at checkout on the special Opulence site. Browse the Opulence collection now at http://opulence.theanneboleynfiles.com/
Elizabeth Locket Ring and Necklace – These are now available in other letters which are straight edged, i.e. A, E, F, H, I, K, L, M, N, T, V, W, X, Y and Z. Due to the vintage crystals being a "baguette" shape, it is not possible to do curved letters.
Clip on earrings – All of our Elizabeth earrings are now available with clip on fixtures for those of you who do not have pierced ears.