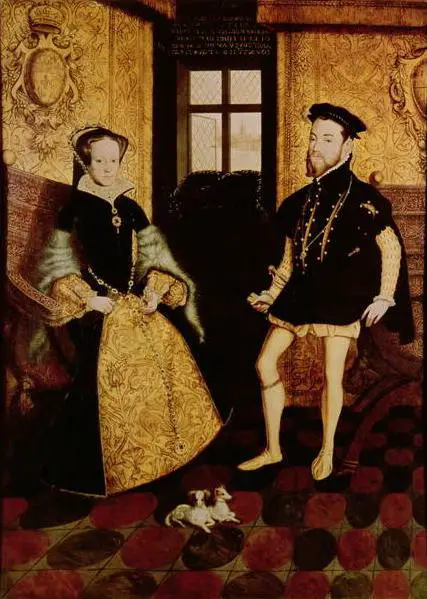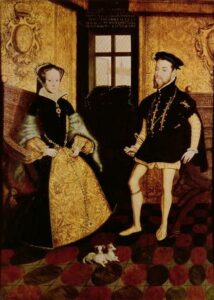 As it is Mary I's birthday today – Happy 494th Birthday Mary! – I thought it would be good to do a bio or factfile on this much maligned Queen:-
Mary I Facts
Birth: In the early hours of Monday the 18th February 1516.
Birthplace: The Palace of Placentia, Greenwich, London.
Father: Henry VIII, King of England and son of Henry VII and Elizabeth of York.
Mother: Catherine of Aragon (also spelled Katherine) or Catalina de Aragon, Queen Consort of Henry VIII and daughter of King Ferdinand II of Aragon and Queen Isabella I of Castile.
Brothers and sisters: Mary's older brother Henry was born in January 1511 but died 52 days after his birth. Mary's mother, Catherine of Aragon, had at least 4 other pregnancies which resulted in miscarriages or stillbirths. Mary also had halfbrothers and sisters through her father Henry VIII: Henry Fitzroy the Duke of Richmond (by Bessie Blount), Elizabeth I (by Anne Boleyn) and Edward VI (by Jane Seymour). It is also rumoured that Henry had other illegitimate children including Mary Boleyn's son and daughter, Henry and Catherine Carey.
Appearance: The Venetian ambassador, Gasparo Spinelli, wrote of Mary in 1527 when she was 11, saying: "Her beauty in this array produced such an effect on everybody that all other marvellous sights… were forgotten and they gave themselves up solely to contemplation of so fair an angel" and he also spoke of her "silver tresses as beautiful as ever seen on human head." Linda Porter, in her biography on Mary, writes of how this description is "perhaps overstated", unless Mary's hair had been dressed in some way as she actually had auburn hair. The French Count of Turenne described Mary as "too thin, spare and small" to be married soon. Porter writes of how many sources agree that she had a beautiful complexion and that Mario Savagnano described Mary in 1531 as "not tall, [she] has a pretty face, and is well-proportioned, with a very beautiful complexion."
In 1540, the French ambassador wrote that Mary "looks not past 18 or 20, although she is 24" and also mentioned that she resembled her father and laughed and spoke like him, although she had a deeper voice.
Although we think of Mary as dumpy and unfashionable, Linda Porter argues that Mary was actually a fashion trendsetter and loved the French fashions that were around when she was in her 20s.
Education: In 1531, Mario Savagno wrote that Mary "speaks Latin, French and Spanish, besides her own mother-English tongue and is well-grounded in Greek and understands Italian but does not venture to speak it. She sings excellently and plays on several musical instruments, so that she combines every accomplishment."
Linda Porter writes of how both Mary's parents took a keen interest in Mary's education and that her education followed "the precepts of the leading thinkers of the day" and that it "was at the cutting edge of Renaissance theory." By the age of 4, she could play the virginals and went on to learn the regal and lute. She was said to excel at dancing, a pastime she really enjoyed, and, as stated above, she was quite a linguist.
Mary's tutors included Henry Rowle (her chaplain), Dr Richard Fetherstone, Giles Duwes and probably the humanist scholar Thomas Linacre. Catherine of Aragon instructed Mary in Latin and introduced her to the works of Juan Luis Vives, the Spanish humanist.
Princess of Wales: In 1525, Henry VIII decided to make Mary Princess of Wales and send her to her own household in the Welsh Marches.
From Princess to Lady: In 1533, Henry VIII finally married Anne Boleyn. His marriage to Catherine of Aragon was annulled and Catherine was made Dowager Princess of Wales and Mary was made illegitimate. She lost the title of Princess and became "The Lady Mary". When Henry and Anne's daughter, Elizabeth, was born in September 1533, Mary was sent to Princess Elizabeth's household to attend her half-sister.
Restored to Succession: Henry VIII restored both his daughters to the succession in his will of 1547. He named Edward as his heir, followed by Mary and then Elizabeth.
Mary I Becomes Queen: Mary became Queen Mary I in July1553 after deposing Lady Jane Grey who had been proclaimed Queen after Edward VI's death on 6th July 1553. On the 24th July, after being declared the true Queen of England, Mary left her safe house at Framlingham heading, with her supporters, for London. Mary made her formal and triumphant entry into London on 30th September 1553 and was crowned Queen Mary I at Westminster Abbey on 1st October.
Nickname: Bloody Mary due to her persecution of Protestants. "Heretics" burned by Mary's regime include John Rogers, Bishops Latimer and Ridley, and Thomas Cranmer. It is thought that around 280 Protestants were killed in Mary I's five year reign compared to the 72,000 people executed in Henry VIII's reign (an average of around 1,800 a year) so perhaps the Bloody Mary name is unfair.
Reign: Mary sought to bring England back to Rome by repealing all of the Protestant legislation of Edward VI's reign. She also introduced an act undoing the annulment of her parents' marriage and making it valid. Although Mary's reign has often been seen as a disaster, in comparison to her half-sister's Golden Age, Linda Porter: "her successes foreshadowed the achievements generally associated with Elizabeth. She encouraged commerce and exploration, overhauled the tax system and saved England's navy from rotting in the country's ports. Had she lived longer, she might have achieved still more. Only her premature death, at the age of 42 made it easy for her critics to represent her reign as an aberration."
It seems sad that her 4 year reign is known for the execution of Lady Jane Grey, the burning of Protestants and the loss of Calais.
Marriage: At the tender age of 2 and a half, Mary was betrothed to the Dauphin of France, but this betrothal was broken just a few years later. In 1522 Mary became betrothed to her cousin Charles V, but again this was broken off. Mary finally married King Philip II of Spain on 25th July 1554, aged 38, at Winchester Cathedral. Mary died just 4 years later.
Children: None. On 18th September 1554, it was announced at the imperial court that Mary I was pregnant but it turned out to be a false pregnancy. Later, in 1557, it was thought that the Queen was pregnant but it was a false alarm again.
Motto: Truth, the daughter of time (Veritas temporis filia) – ironic considering that the Bloody Mary image has prevented many from searching for the real truth about this Queen.
Death: Mary I died on the 17th November 1558 at St James's Palace, aged 42, after contracting the virus which killed many of her subjects in the epidemic of 1558 and 1559. At 6am on the 17th November, Mary heard mass and then died peacefully at around 7am.
Successor: Mary's coronation ring was taken to her half-sister, Elizabeth, at Hatfield and she was proclaimed Elizabeth I of England.
Resting Place: After a royal funeral, Mary I was alid to rest at Westminster Abbey. In 1603, James I erected a lavish monument over the vault which contained the coffins of Mary and Elizabeth. The tomb lacks an effigy of Mary but the plaque reads: "Partners both in throne and grave, here rest we, two sisters, Elizabeth and Mary, in the hope of the resurrection."
Views of Mary I: Linda Porter writes of how Mary's name was blackened in Elizabeth I's name and that it is John Foxe's "Book of Martyrs" that is mainly responsible for the Bloody Mary image. However, according to Porter, attempts to soften her image have tended to make her into "a sad little woman who would have been better off as the Tudor equivalent of a housewife" and this is just as wrong as the Bloody Mary image because "to dismiss her life as nothing more than a personal tragedy is both patronising and mistaken."
I love Linda Porter's conclusion to her book:-
"One of the main themes of Mary's existence is the triumph of determination over adversity. She lived in a violent, intolerant age, surrounded by the intrigues of a time when men and women gambled their lives for advancement at court. Deceit, like ambition, was endemic among the power-seekers of mid-Tudor England who passed, in procession, through her life. Pride, stubbornness and an instinct for survival saw her through tribulations that would have destroyed a lesser woman. Her bravery put her on the throne and kept her there, so that when she died she was able to bequeath to Elizabeth a precious legacy that is often overlooked: she had demonstrated that a woman could rule in her own right."
Yes, Elizabeth's reign was a glorious Golden Age but Mary I helped pave the way by showing that a woman could be Queen, she was the rule-breaker and trendsetter, and left Elizabeth something to build on. As David Loades says:-
"Mary was England's first ruling queen, a political pioneer who established the precedent that the gender of the monarch made no difference to the powers or the prerogatives of the Crown."
Sources