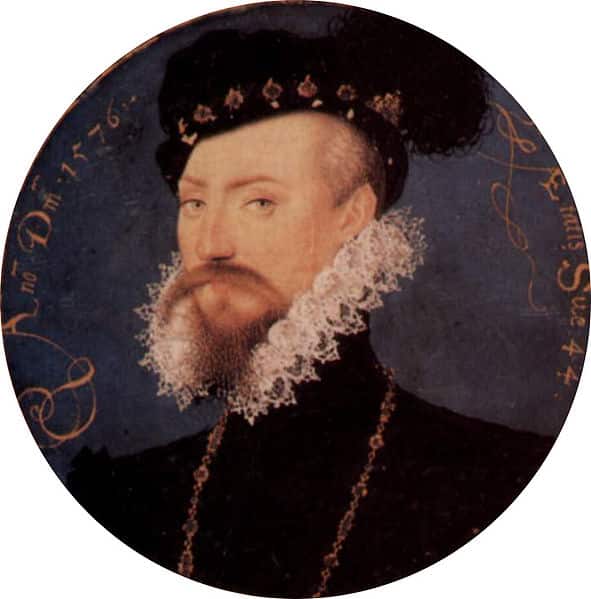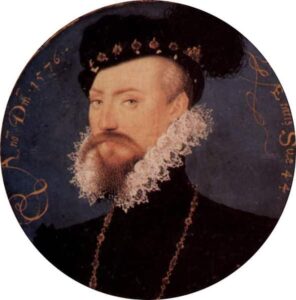 On this day in history, the 4th June 1550 (some sources say the 5th), Robert Dudley married Amy Robsart at the royal palace of Sheen at Richmond, near London. The marriage was attended by the then king, Edward VI.
Both Amy and Dudley were a few days short of their 18th birthdays when they got married and the marriage was a love-match, or a "carnal marriage" as William Cecil described it, rather than an arranged union. The couple were sweethearts and very much in love but it was not to be a happy marriage and events conspired against them.
Just three years after their wedding, Dudley was imprisoned in the Tower of London for his involvement in the brief reign of Lady Jane Grey, the wife of his brother Guildford. Amy was allowed to visit him but he was imprisoned until October 1554 and when he was released the couple had nothing to live on and had to depend on handouts from their families. The couple were again parted when Dudley went to fight for King Philip II of Spain, Mary I's husband, in 1557 at the Battle of St Quentin in France, but there is no evidence at this point that the couple were anything other than happy and in the summer of 1558 they were looking for a home together in Norfolk, although events soon conspired against them again.
A Marriage Doomed
In November 1558, Mary I died and Elizabeth I, Dudley's childhood friend, became Queen of England. Elizabeth soon rewarded Dudley for his friendship and support by making him Master of the Horse. This role required him to be away from Amy at court and to spend most of his time with the Queen. Just five months later, ambassadors and diplomats were repeating the gossip that the Queen was in love with her favourite, Dudley, and that the couple were planning to marry after Amy's death – Amy had some malady in one of her breasts, probably breast cancer.
Although Amy's health had improved enough for her to visit London in May 1559, she never saw her husband again and she died on Sunday 8th September 1560 at Cumnor Place near Abingdon, her rented accommodation. Her death is rather a mystery. Her body was found at the foot of the stairs when her servants returned from their day out at the Abingdon Fair and although the coroner ruled that Amy, "being alone in a certain chamber … accidentally fell precipitously down", there were rumours and mutterings that Dudley, and even the queen, had been poisoning Amy and had arranged her death.
Today, there are various theories regarding Amy Robsart's death:-
An accident – That Amy in her weakened condition simply fell down the stairs.
Suicide – The idea that Amy couldn't take the pain any longer and so ordered her servants out for the day and then threw herself down the stairs.
Murder – Some believe that Dudley was responsible for his wife's death because he wanted her out of the way so that he could marry Elizabeth, some believe that Amy's murder was arranged by Dudley and Elizabeth, and still others believe that William Cecil organised Amy's murder to cause a scandal and prevent Dudley marrying the Queen.
Cancer – Ian Aird, a professor of medicine, put forward the theory in 1956 that Amy's cancer may well have caused metastatic cancerous deposits in her spine which then could have caused a weakness there. This weakness could have caused her neck to break under the stress of a small fall or even just by Amy walking down the stairs.
I have written about Amy's death before, and the theories regarding it – check out:-