To mark the anniversary of the death of Queen Elizabeth I on this day in 1603, I thought I'd share my top 5 favourite Elizabeth I books, both fiction and non-fiction.
Elizabeth I Non-fiction
Elizabeth I: Collected Works, ed. Leah S Marcus, Janel Mueller, Mary Beth Rose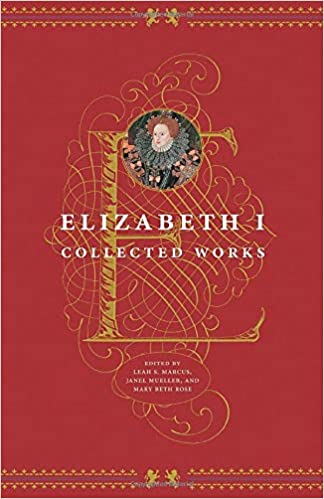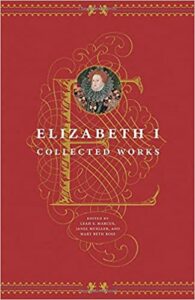 Blurb: This long-awaited and masterfully edited volume contains nearly all of the writings of Queen Elizabeth I: the clumsy letters of childhood, the early speeches of a fledgling queen, and the prayers and poetry of the monarch's later years. The first collection of its kind, Elizabeth I reveals brilliance on two counts: that of the Queen, a dazzling writer and a leading intellect of the English Renaissance, and that of the editors, whose copious annotations make the book not only essential to scholars but accessible to general readers as well.
Amazon.com link: https://amzn.to/2OVHnB0
Elizabeth I by Anne Somerset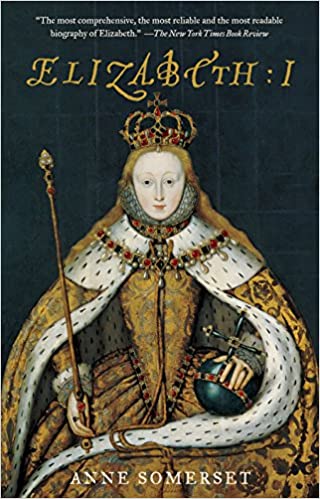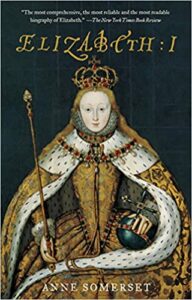 Blurb: Glitteringly detailed and engagingly written, the magisterial Elizabeth I brings to vivid life the golden age of sixteenth-century England and the uniquely fascinating monarch who presided over it. A woman of intellect and presence, Elizabeth was the object of extravagant adoration by her contemporaries. She firmly believed in the divine providence of her sovereignty and exercised supreme authority over the intrigue-laden Tudor court and Elizabethan England at large. Brilliant, mercurial, seductive, and maddening, an inspiration to artists and adventurers and the subject of vicious speculation over her choice not to marry, Elizabeth became the most powerful ruler of her time. Anne Somerset has immortalized her in this splendidly illuminating account.
Amazon.com link: https://amzn.to/3cj9Rxr
Elizabeth: The Struggle for the Throne by David Starkey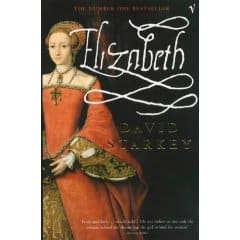 Blurb: An abused child, yet confident of her destiny to reign, a woman in a man's world, passionately sexual—though, as she maintained, a virgin—Elizabeth I is famed as England's most successful ruler. David Starkey's brilliant new biography concentrates on Elizabeth's formative years—from her birth in 1533 to her accession in 1558—and shows how the experiences of danger and adventure formed her remarkable character and shaped her opinions and beliefs.
From princess and heir-apparent to bastardized and disinherited royal, accused traitor to head of the princely household, Elizabeth experienced every vicissitude of fortune and extreme of condition—and rose above it all to reign during a watershed moment in history. A uniquely absorbing tale of one young woman's turbulent, courageous, and seemingly impossible journey toward the throne, Elizabeth is the exhilarating story of the making of a queen.
Amazon.com link:https://amzn.to/3rbmzT2
Elizabeth: The Forgotten Years by John Guy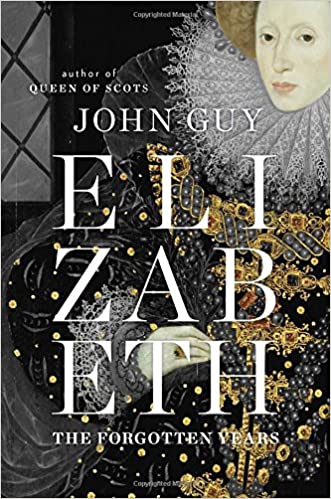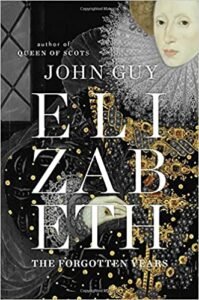 Blurb: Elizabeth was crowned queen at twenty-five, but it was only when she reached fifty and all hopes of a royal marriage were behind her that she began to wield power in her own right. For twenty-five years she had struggled to assert her authority over advisers, who pressed her to marry and settle the succession; now, she was determined not only to reign but to rule. In this magisterial biography, John Guy introduces us to a woman who is refreshingly unfamiliar: at once powerful and vulnerable, willful and afraid. We see her confronting challenges at home and abroad: war against France and Spain, revolt in Ireland, an economic crisis that triggers riots in the streets of London, and a conspiracy to place her cousin Mary Queen of Scots on her throne. For a while she is smitten by a much younger man, but can she allow herself to act on that passion and still keep her throne?
For the better part of a decade John Guy mined long-overlooked archives, scouring handwritten letters and court documents to sweep away myths and rumors. This prodigious historical detective work has enabled him to reveal, for the first time, the woman behind the polished veneer: determined, prone to fits of jealous rage, wracked by insecurity, often too anxious to sleep alone. At last we hear her in her own voice expressing her own distinctive and surprisingly resonant concerns. Guy writes like a dream, and this combination of groundbreaking research and propulsive narrative puts him in a class of his own.
Amazon link: https://amzn.to/3rqlIOB
Elizabeth I and her Circle by Susan Doran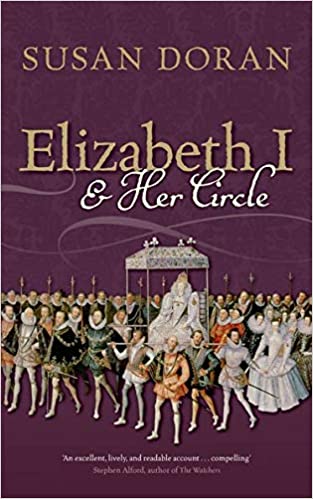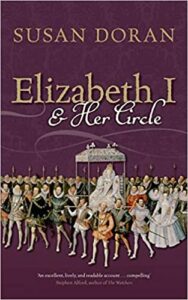 Blurb: This is the inside story of Elizabeth I's inner circle and the crucial human relationships which lay at the heart of her personal and political life. Using a wide range of original sources–including private letters, portraits, verse, drama, and state papers–Susan Doran provides a vivid and often dramatic account of political life in Elizabethan England and the queen at its center, offering a deeper insight into Elizabeth's emotional and political conduct–and challenging many of the popular myths that have grown up around her.
It is a story replete with fascinating questions. What was the true nature of Elizabeth's relationship with her father, Henry VIII, especially after his execution of her mother? What was the influence of her step-mothers on Elizabeth's education and religious beliefs? How close was she really to her half-brother Edward VI–and were relations with her half-sister Mary really as poisonous as is popularly assumed? And what of her relationship with her Stewart cousins, most famously with Mary Queen of Scots, executed on Elizabeth's orders in 1587, but also with Mary's son James VI of Scotland, later to succeed Elizabeth as her chosen successor?
Elizabeth's relations with her family were crucial, but almost as crucial were her relations with her courtiers and her councillors. Here again, the story unravels a host of interesting questions.
Amazon link: https://amzn.to/3d0yPk5
Elizabeth I Fiction
Roses Have Thorns: A Novel of Elizabeth I by Sandra Byrd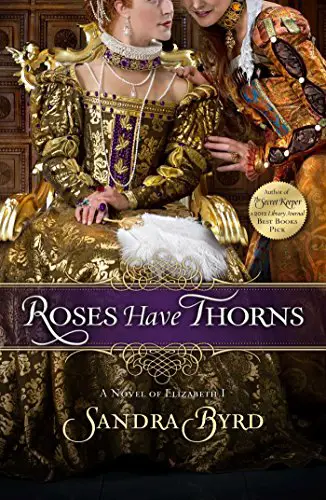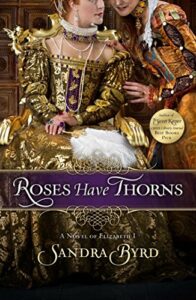 Blurb: From the acclaimed author of To Die For comes a stirring novel told that sheds new light on Elizabeth I and her court.Like Philippa Gregory and Alison Weir, Sandra Byrd has attracted countless fans for evoking the complexity, grandeur, and brutality of the Tudor period. In her latest tour de force, she poses the question: What happens when serving a queen may cost you your marriage–or your life?
In 1565, seventeen-year-old Elin von Snakenborg leaves Sweden on a treacherous journey to England. Her fiance has fallen in love with her sister and her dowry money has been gambled away, but ahead of her lies an adventure that will take her to the dizzying heights of Tudor power. Transformed through marriage into Helena, the Marchioness of Northampton, she becomes the highest-ranking woman in Elizabeth's circle. But in a court that is surrounded by Catholic enemies who plot the queen's downfall, Helena is forced to choose between her unyielding monarch and the husband she's not sure she can trust–a choice that will provoke catastrophic consequences.
Vividly conjuring the years leading up to the beheading of Mary Queen of Scots, Roses Have Thorns is a brilliant exploration of treason, both to the realm and to the heart.
Amazon.com link: https://amzn.to/3rj8MKf
His Last Letter: Elizabeth I and the Earl of Leicester by Jeane Westin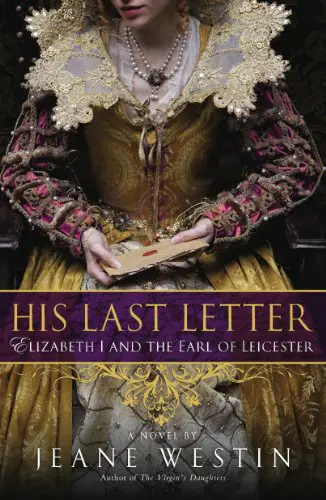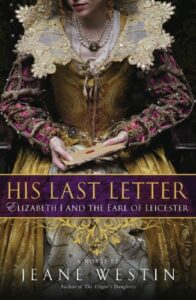 Blurb: They were playmates as children, impetuous lovers as adults-and for thirty years were the center of each others' lives. Astute to the dangers of choosing any one man, the Virgin Queen could never give her "Sweet Robin" what he wanted most-marriage- yet she insisted he stay close by her side. Possessive and jealous, their love survived quarrels, his two disastrous marriages to other women, her constant flirtations, and political machinations with foreign princes.
His Last Letter tells the story of this great love… and especially of the last three years Elizabeth and Dudley spent together, the most dangerous of her rule, when their passion was tempered by a bittersweet recognition of all that they shared-and all that would remain unfulfilled.
Amazon.com link: https://amzn.to/3d5T4wG
Elizabeth I by Margaret George
Blurb: England's greatest monarch has baffled and intrigued the world for centuries. But what was the Virgin Queen really like? Lettice Knollys—Elizabeth's flame-haired, look-alike coussin—thinks she knows all too well. Elizabeth's rival for the love of Robert Dudley, Earl of Leicester, and mother to the Earl of Essex, Lettice has been intertwined with Elizabeth since childhood.
This is a story of two women of fierce intellect and desire, one trying to protect her country and throne, the other trying to regain power and position for her family. Their rivalry, and its ensuing drama, soon involves everyone close to Elizabeth, from the famed courtiers who enriched the crown to the legendary poets and playwrights who paid homage to it with their works.
Filled with intimate portraits of the personalities who made the Elizabethan age great—Shakespeare, Marlowe, Dudley, Raleigh, Drake—Elizabeth I provides an unforgettable glimpse of a woman who considered herself married to her people. A queen who ruled as much from the heart as from the head.
Amazon.com link: https://amzn.to/3rjJw6x
Legacy by Susan Kay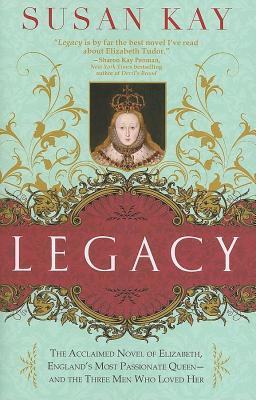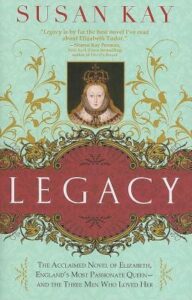 Blurb: A Spellbinding Tale of England's Most Passionate Queen―and the Three Men Whose Destinies Belonged to Her Alone.
Beloved for its stunning storytelling, Legacy offers an exquisite portrait of the queen who defined an era. Tracing the unlikely path from her tragic childhood to her ruthless confrontations with Mary, Queen of Scots, and capturing in all its glory her brilliant reign as Europe's most celebrated queen, Susan Kay peels back the layers of a mysterious monarch and satisfies the questions of history.
Winner of the Georgette Heyer Historical Novel Prize and the Betty Trask Award, Susan Kay gives us Elizabeth the woman: proud, passionate, and captivating in her intensity. The queen who inspired men to love her with bewitching devotion, no matter what the cost, but the depth of her love for England required a sacrifice that would haunt her to the grave.
Amazon.com link: https://amzn.to/3vP7EBz
The Tudor Secret by C W Gortner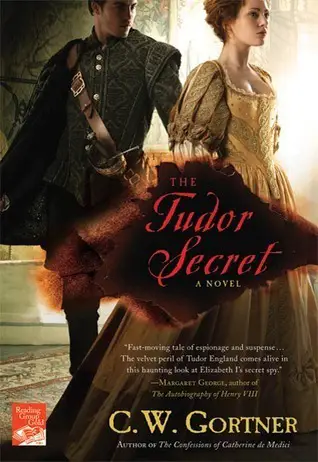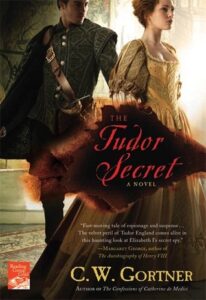 The era of the Tudors was one of danger, intrigue, conspiracy, and, above all, spies.
Summer 1553: A time of danger and deceit. Brendan Prescott, an orphan, is reared in the household of the powerful Dudley family. Brought to court, Prescott finds himself sent on an illicit mission to the king's brilliant but enigmatic sister, Princess Elizabeth. But Brendan is soon compelled to work as a double agent by Elizabeth's protector, William Cecil, who promises in exchange to help him unravel the secret of his own mysterious past.
A dark plot swirls around Elizabeth's quest to unravel the truth about the ominous disappearance of her seriously ill brother, King Edward VI. With only a bold stable boy and an audacious lady-in-waiting at his side, Brendan plunges into a ruthless gambit of half-truths, lies, and murder. Filled with the intrigue and pageantry of Tudor England, C. W. Gortner's The Tudor Secret is the first book in The Elizabeth I Spymaster Chronicles.
Amazon.com link: https://amzn.to/3tOhHop