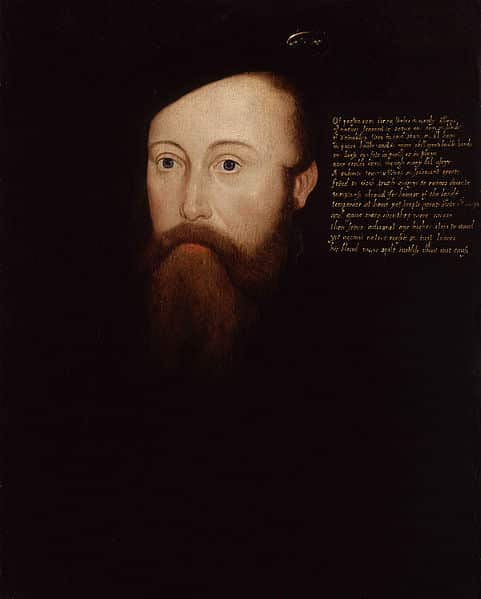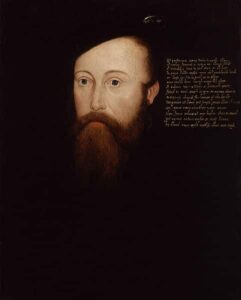 On this day in history, the 20th March 1549, Thomas Seymour, 1st Baron of Sudeley and Lord High Admiral, husband of the late Dowager Queen Catherine Parr and brother of Queen Jane Seymour and Protector Somerset, was executed for treason after being charged with thirty-three counts of treason.
He had been causing the King's Council concern for some time, but it was the alleged plot to kidnap the young King Edward VI, his nephew, in January 1549 which led to his execution. On the night of the 16th January 1549, Seymour had broken into the King's apartments at Hampton Court Palace and had shot the King's beloved pet Spaniel after it barked at him. He was arrested, charged with treason and executed on the 20th March 1549 after the King had signed his death warrant.
In her book, "Katherine the Queen: The Remarkable Life of Katherine Parr", historian Linda Porter, writes of how Seymour died with dignity and courage and that it took two blows of the axe to sever his head. During his imprisonment in the Tower of London, Seymour wrote the following poem:-
"Forgetting God
to love a king
Hath been my rod
Or else nothing:
In this frail life
being a blast
of care and strife
till in be past.
Yet God did call
me in my pride
lest I should fall
and from him slide
for whom loves he
and not correct
that they may be
of his elect
The death haste thee
thou shalt me gain
Immortally
with him to reign
Who send the king
Like years as noye
In governing
His realm in joy
And after this
frail life such grace
As in his bliss
he may have place."1
David Starkey writes of how unpopular Seymour's execution was and both Porter and Starkey write of how the King's Council had to take steps to calm the situation by blackening Seymour's name. The Council spread it around that Seymour had written letters to Mary and Elizabeth encouraging them to rise up against their brother's government and Hugh Latimer, the cleric who had been friends with Seymour and who had had Seymour as his patron, preached a sermon vilifying Seymour and accusing him of being an atheist, traitor and debaucher of women:-
"He was, I heard say, a covetous man:…I would there were no more in England. He was, I heard say, an ambitious man: I would there were no more in England. He was, I heard say, a seditious man, a contemner of common prayer: I would there were no more in England. Well he is gone. I would he had left none behind him.
As touching the kind of his death, whether he be saved or no, I refer that to God only… And when a man hath two strokes of the axe who can tell but that between two strokes he doth repent? It is very hard to judge. Well, I will not go so nigh to work; but this I will say if they ask me what I think of his death, that he died very dangerously, irksomely, horribly… He was a man the farthest from the fear of God that I knew of or heard of in England… surely he was a wicked man and the realm is well rid of him."2
Nicholas Throckmorton said of Seymour's end:-
"Off went his head, they made a quick despatch,
But ever since I thought him sure a beast
Who causeless laboured to defile his nest
Though guiltless, he, through malice, went to pot
Not answering for himself nor knowing cause."3
In other words, "it was other men's ambitions, as much as the admiral's, that brought about his downfall"4.
John Harington, Seymour's servant and friend, wrote of Seymour:-
"Friend to God's truth, and foe to Rome's deceit…
Yet against nature, reason and just laws
His blood was spilt, guiltless, without just cause."5
It is alleged that the 15 year old Elizabeth, on hearing of Seymour's death, said: "This day died a man of much wit and very little judgement" which Linda Porter says "are a fitting epitaph for one of Tudor England's most colourful courtiers". Porter goes on to say that although Seymour was a flawed man, he was also a man who "had served his king and country ably". He may have become consumed with ambition "yet both Katherine and Elizabeth, two of the most outstanding women of their time, loved him, despite his weaknesses."6
How is Thomas Seymour viewed today?
In "The Tudors", we see him sleeping with his brother's wife and fathering her child (not true!); in fiction Seymour deflowers the young Elizabeth, makes her pregnant and gets rid of his wife, Catherine. We judge him as a sexual predator, preying on the teenage Elizabeth, as the man who broke Catherine Parr's heart and as a proud and ambitious man who deserved his fall, afterall, pride comes before a fall! However, as I have said before, I choose to see him through the eyes of Catherine Parr and Elizabeth, women who were intelligent and shrewd, and through the eyes of John Harington, a man who knew him well. Also, no scandal surrounded Seymour until his 'dalliance' with Elizabeth, he was a man who had made his name at the English Court without sullying his reputation. Perhaps we should give him the benefit of the doubt.
How sad that he lost the steadying influence of his wife when she died in September 1548 and how sad that their daughter, Mary, was left an orphan just a few months after her birth. A tragic story indeed. A story of love, intrigue, pride, ambition, betrayal and death.
What do you think of Thomas Seymour?
Notes and Sources
John Harington, Nugae Antiquae (London, 1769), vol. 3, p259, quoted in "Katherine the Queen", Linda Porter, p338
"Lady Jane Grey: A Tudor Mystery", Eric Ives, p 48
Linda Porter, p339
Ibid.
Ibid.
Ibid., p340