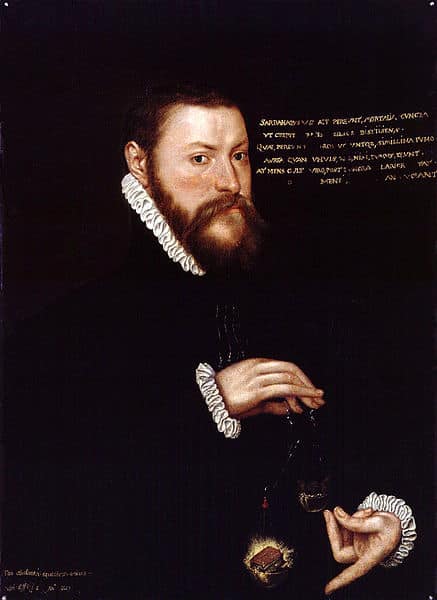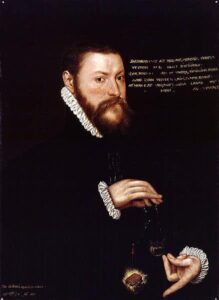 On this day in history, 14th October 1565, statesman and poet, Thomas Chaloner, died at his home in Clerkenwell, London. But who was Thomas Chaloner? Here is a brief bio:-
Thomas Chaloner was born in 1521, the son of a mercer, Roger Chaloner. He was educated at Oxford and Cambridge universities and in 1540 he went to the court of the Holy Roman Emperor, Charles V, as secretary to Sir Henry Knyvett. Chaloner was knighted in 1547 by Edward Seymour, Protector Somerset, after the Battle of Pinkie Cleugh in Scotland, part of the War of the Rough Wooing between the Scottish and English armies. He was a witness in the trials of Edmund Bonner, Bishop of London, and Stephen Gardiner, Bishop of Winchester, in 1549 and 1551 respectively. In 1549, Chaloner was involved in investigating Protector Somerset after his downfall and in 1551 and 1552 he was sent as a commissioner to Scotland.
In 1553, he was sent on an embassy to France but was recalled when Mary I became Queen of England. Although he was a Protestant, he escaped persecution in Mary I's reign and was actually employed by her, undertaking missions to Scotland in 1555 and 1556 and helping with preparations for the troops involved in the war with France in 1557 and 1558.
During the reign of Elizabeth I he acted as the English ambassador to Ferdinand I, Holy Roman Emperor, in 1558, and then ambassador to Philip II in the Low Countries and then Spain between 1559 and 1561. Chaloner was a great friend of William Cecil, Lord Burghley.
In 1564 his health began to fail and he was allowed to return home. He died there on the 14th October 1565 aged 44.
Thomas Chaloner was married twice, first to a widow, Joan (Joanna) Legh, and then to Etheldreda Frodsham. He had one son by Etheldreda, Sir Thomas Chaloner the famous naturalist. As well as being a statesman, Chaloner was also a poet and his works include:-
Howe the Lorde Mowbray was banyshed the Realme (published 1559)
De Rep. Anglorum instauranda libri decem (published 1579)
In laudem Henrici octavi . . . carmen Panegericum (published 1560)
A translation "The Praise of Folly" (Moriæ Encomium) by Erasmus (1549)
Deploratio acerbæ necis heroidis prœstantissimæ D[ominæ] Janæ Grayæ, or Elegy on the untimely death of the most Protestant divine Lady Jane Grey (published 1579)
Source
Sir Thomas Chaloner Wikipedia page
Further Reading
You can read Thomas Chaloner's "Elegy on the Death of Lady Jane Grey" at http://www.somegreymatter.com/chalonerelegy.htm