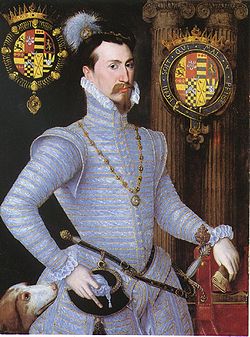 On this day in 1588, not long after England's victory over the Spanish Armada, Robert Dudley, Earl of Leicester, died aged 56.
In her book "Elizabeth I"1, Anne Somerset writes of how Leicester's health had been deteriorating for some time and that at the end of August 1588 Leicester set off for Buxton, Derbyshire, which was known for its healing baths of spa water. It was en-route to Buxton, at Rycote near Reading, a house which he had visited with Elizabeth, that Leicester wrote his last letter to his beloved Bess on the 29th August:-
"I most humbly beseech your Majesty to pardon your poor old servant to be thus bold in sending to know how my gracious lady doth, and what ease of her late pains she finds, being the chiefest thing in this world I do pray for, for her to have good health and long life. For my own poor case, I continue still your medicine and find that (it) amends much better than with any other thing that hath been given me. Thus hoping to find perfect cure at the bath, with the continuance of my wonted prayer for your Majesty's most happy preservation, I humbly kiss your foot. From your old lodging at Rycote, this Thursday morning, ready to take on my Journey, by your Majesty's most faithful and obedient servant,

R. Leicester

Even as I had writ thus much, I received Your Majesty's token by Young Tracey."2
This was the letter that Elizabeth I inscribed "His Last Letter" and treasured, keeping it in a box by her bedside where it was found after her death.
After writing this letter, Leicester continued his journey, stopping at Combury Park, near Woodstock in Oxfordshire, where his condition deteriorated until, at 4am on the 4th September, he passed away. He was buried in the Beauchamp Chapel of the Collegiate Church of St Mary's in Warwick, the same place as his son, Robert Dudley, Lord Denbigh, who died in 1584 aged three. Leicester's wife, Lettice (née Knollys), was buried alongside him after her death in 1634.
Elizabeth I was devastated by the death of the man she referred to as her "Eyes" or as "Sweet Robin". They had known each other since childhood and I believe that he was the love of her life. Anne Somerset quotes an informant of Mendoza as reporting that "She was so grieved that for some days she shut herself in her chamber alone, and refused to speak to anyone until the Treasurer and other Councillors had the doors broken open and entered to see her"3 and Sir Francis Walsingham reported on the 7th September that it was impossible to do business with Elizabeth by "reason that she will not suffer anybody to [have] access unto her, being very much grieved with the death of the Lord Steward [Leicester]."4 Two months later, in November 1588, Elizabeth was described as "much aged and spent, and very melancholy" – Leicester's death had hit her hard.
Jeane Westin, author of "His Last Letter: Elizabeth I and the Earl of Leicester", brought me to tears with her moving scene in her prologue, when Elizabeth finds out that Leicester is dead:-
"She opened her mouth to shout down his lie, but at that moment came a great boom of cannon from the Tower and what the queen howled was neither heard nor understood by anyone in the presence chamber, least by herself. It was a cry of denial from the deepest well of her heart…

… She said something, but it was lost in a swift-moving red pain that filled her and became a sound… a name… Robin… my long love. How could I have forgotten you for a moment, even in my greatest triumph, our greatest triumph?

"Majesty, you should come away to your chambers. I would not have the court see you thus. A queen does not-"

"Does not!" she shrieked at her faithful advisor of thirty years and more. "Does not feel agony, does not… " She lost the words spilling from her heart, if she had words instead of shrieks of disbelief. It could not be. Not Robin. He had promised never to leave her."5
A beautifully written scene and it is impossible not to be moved by it.
Elizabeth did manage to pick herself up and do her duty as queen, but it is obvious that she never got over Leicester's death. RIP Robert Dudley, Earl of Leicester.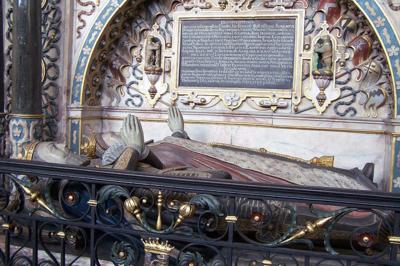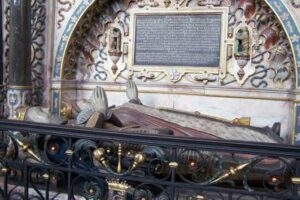 Notes and Sources
Elizabeth I, Anne Somerset, p595-596
His Last Letter, Jeane Westin, p360, Author's Historical Note
Somerset, p596
Ibid.
Westin, p9