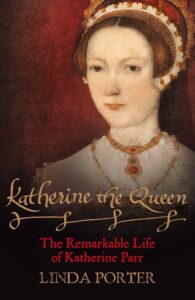 Historian and author Linda Porter concludes her Katherine Parr biography with:-
"The adult Elizabeth was very much the product of Katherine Parr. Her education, her religious beliefs, her consciousness of personal image owed much to her stepmother who guided and loved her during those formative years. Katherine had brought up a talented and determined girl, open-minded by the standards of her day, who was not afraid to rule… Her long reign, with its flowering of culture and the establishment of a small country on the north-western fringes of Europe as a world power, is Katherine Parr's abiding achievement."
What a wonderful conclusion! In that paragraph Linda Porter gives Katherine Parr much of the credit for the monarch Elizabeth grew up to be, a successful Queen. It is fantastic that this once overlooked sixth and final wife of Henry VIII is getting some credit for what she was and what she did. Let's finally put to bed the myth that she was simply a nursemaid to the ailing Henry and celebrate her life and the impact and influence she had on those around her.
Now, I'm not saying that Katherine deserves all of the credit for Elizabeth's success as Queen, I think that Elizabeth had many influences, plus the genes of her very intelligent, ambitious and able parents, but Elizabeth adored Katherine Parr and spent five years, between the ages of 10 and 15, being influenced by this strong female role model, a woman who Henry trusted as regent while he was away in France. I know how I had role models when I was growing up, people I looked up to and people who helped make me the person I am today, and that is what happened with Elizabeth and Katherine. Henry VIII made a good choice of wife with Katherine, she was just what he, the country and his children needed.
Anyway, Linda Porter's "Katherine the Queen: The Remarkable Life of Katherine Parr" ia a true celebration of Katherine's life and is well worth a read if you want to know about one of the women who helped shape the young Elizabeth. Read my review and rundown of Linda Porter's book at http://reviews.theanneboleynfiles.com/katherine-the-queen-by-linda-porter/322
You can also read an article, "Last But Not Least: The Enduring Fascination of Katheirne Parr", by Linda Porter over at the Anne Boleyn Files – click here.